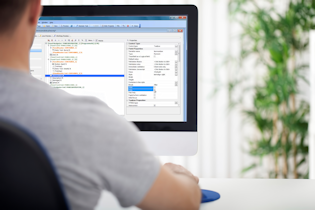 Presented By:
Dion McCormick, CEO, GKR Solutions
Date:
Wednesday, September 25, 2013, 1:00 PM EDT
Overview:
Mobile platforms and applications are transforming how business is done. But, it has been a challenge to build a mobile solution that can work across multiple platforms and operating systems without breaking the bank. Join us for a free webinar, hosted by Dion McCormick, to see how Alpha Anywhere solves this problem. Dion will demonstrate how with Alpha Anywhere you can quickly and easily build powerful cross-platform mobile applications in significantly less time than with competing methods. With this capability at your fingertips, you can empower your organization to take advantage of the mobile application revolution and create solutions for your employees and customers that couldn't even have been imagined a few short years ago. Attend the webinar to see for yourself how the power of Alpha Anywhere can bring your mobile visions to life!