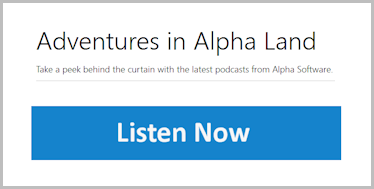 The latest episode of Adventures in Alpha Land is now available for your listening pleasure. Access developers frequently turn to Alpha Anywhere. We interviewed some of them to find out why they have been choosing Alpha Anywhere as a replacement for Microsoft Access. This episode features Peter Caspari, Owner of GCS Research. Peter explains why he is moving all of his MS Access clients to Alpha Anywhere. Peter has spent years developing for Access database but found limitations in the product that prevented him from meeting the needs of his clients. Listen to the podcast to learn why he has made that decision.
My experience has been that most of my clients who have had their Access systems for some years want to develop further the application and give it more capabilities.
It's at that opportunity where you can rebuild the whole system in the Alpha environment, but still use the underlying tables that you've already established and go from there.