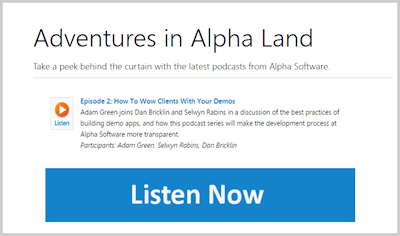 The second episode of Adventures in Alpha Land is now available for your listening pleasure. In this episode Selwyn Rabins, Dan Bricklin and I philosophize about the best approach to building a set of demo apps.

Our ultimate goal is to construct demos of the product that makes people say "Wow!," but first we have to decide how to manage the moving target that is Alpha Anywhere. Selwyn warns us that once a demo is completed he will start working on improving the product to make the task accomplished in the demo easier to perform. Dan and I agree that we have expected this, and encourage Selwyn to continue this process. We'll just have to keep moving the target to keep up.

Dan and I fantasize a while about how cool it would be to have a notepad that logged the location of each note. Then I push my idea of constructing a series of demos in a star architecture. Not sure what that means? Listen and learn!


---

Adam Green is an independent web developer, who is acting as a consultant to Alpha Software on several projects.