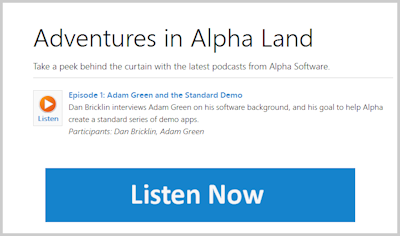 We've just begun a series of podcasts called Adventures in Alpha Land that will help reveal the people and processes involved in building Alpha Anywhere.

The first episode is an interview between Alpha Software CTO Dan Bricklin and myself, where Dan helps me explain my background in software for the last 35 years, and discuss what I want to accomplish by building a standard series of demos for Alpha Anywhere.

In later podcasts, Alpha Software President Selwyn Rabins will join us as we work out the features and underlying database schema for these demos. Transparency will be a major goal in our process, so you can expect an honest discussion about the product and its pros and cons.

As I say in this podcast, I am not an Alpha expert. Part of the process will be my honestly describing where I find the product confusing, and get advice on best practices from Dan and Selwyn. This should create a great environment for you to learn along with me.