About the Author
Who:

Allan Barnard




www.CheshireTechnology.com

When

June, 2015

What:

Oracle Demantra (supply chain forecasting) implementation specialist for 15+ years




Application and database developer for longer still
| | |
| --- | --- |
| Summary | |
Large firms and small are working to engage mobile technologies, typically to increase revenue, convenience, efficiency, or engagement. Rapid development tools such as Alpha Anywhere simplify, accelerate and reduce the cost of mobile cross-platform development.
A surprising use of Alpha Anywhere in our company has been knocking down technical objections to sales efforts. We are system integrators and deal with global enterprise-level vendors, clients, and software.
On occasion a technical hang-up between proposed systems can slow down or even kill a proposed sale.Recently we were asked if a method existed to allow users to sift through millions of old records from a legacy system so that select records might feed a new proposed system (a new sale). Without a cost effective answer, the larger sales effort would be endangered.
Two evenings of work with Alpha produced a viable solution on browsers and tablets. This enabled the sales effort to continue and some months later we were engaged to perform a high-value portion of the solution.
Alpha Anywhere is much that than mobile technology; it includes a back-end webserver capable of integrating with local data, it offers an ability to work immediately with all manner of local browsers, and an ability to create and deploy true mobile apps which can solve a lot of unique enterprise problems quickly!
Lets start off with an example and describe the problem that Alpha Anywhere was called in to solve.
A very large and well-known movie company with a home entertainment division (DVDs, CDs, etc) needed to upgrade enterprise forecasting software from one of the world's largest software firms.The vendor and client were in discussion about expanding the existing solution but were concerned that there was no effective way to use older but still important records from a competing system.

All of the systems involved tens of millions or hundreds of millions of records.
Specifically the challenge was, how would employees be able to sift through millions of older sales records (to companies like Walmart, Best Buy, K-Mart, etc) and choose only those that were useful going forward?
Only relevant records based on current user needs were to be imported into the new system so a person had to be directly involved (pure automation wasn't an option).Without a quick and affordable solution the surrounding project would be at risk.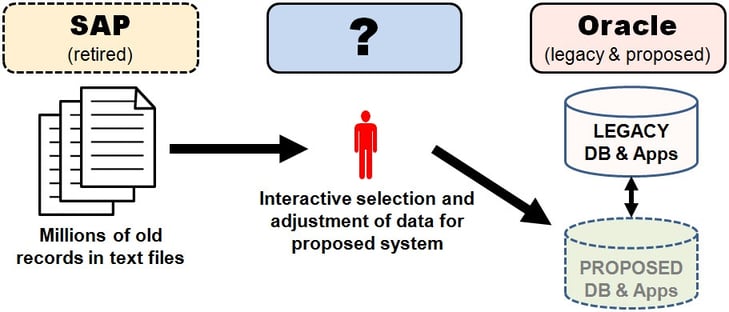 The Alpha Anywhere Solution
With a little experience and about ten hours of development we developed a working app that could easily and immediately beused on a browser or tablet. The end-client could choose to enable outside-the-firewall access when desired with input from their security team.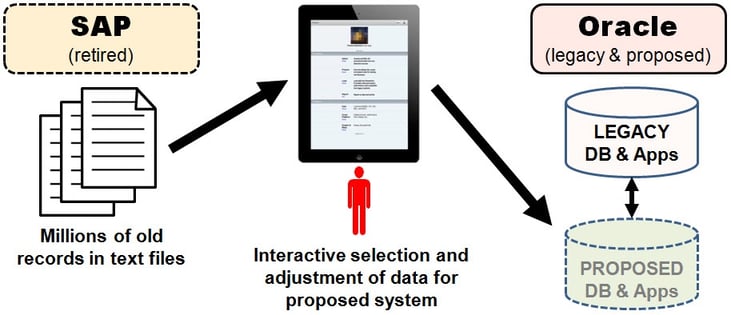 Application Screen Shots
The simple result was an app that allowed users to use a familiar tablet paradigm to narrow millions of records to just those they cared about, perform some basic manipulations, and then inject those records into the new software (which was being considered for upgrade and enhancement).
Click on images to see them at f

ull size!
Positive Business Outcome
The ability to build and demo an easily used solution to a potentially sale-stopping barrier allowed the stakeholders to continue discussions and the first stage of work to begin, a high-value win for our company.
The mere fact that Alpha Software's ability to produce an app quickly that could touch flat files, ODBC and JDBC connections, manipulate data, and interact via browser, Android, and iOS greased the wheels of the sales process.