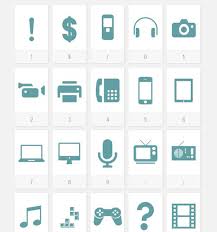 The Font-Awesome CSS Icon library (http://fontawesome.io) is bundled with Alpha Anywhere and can be used in the UX, Grid and TabbedUI components to help make your Alpha Anywhere apps awesome looking.

CSS Icon fonts are scalable vector icons that can instantly be customized — in terms of size, color, drop shadow, and anything that can be done with the power of CSS.




Other benefits of Icon Fonts are:



Infinite Scalability - Scalable vector graphics means every icon looks awesome at any size.




CSS Control - You can easily style icon color, size, shadow, and anything that's possible with CSS.




Perfect on Retina Displays - Font Awesome icons are vectors, which mean they're gorgeous on high-resolution displays.



In this video we show how to use the Font-Awesome font library and CSS icons in general within Alpha Anywhere
Alpha Anywhere lets you also use other 3rd party Icon Fonts as well - Check out this video
Related to these new fonts is the new List Menu Control

A common pattern in mobile applications is to use a List control as the menu. This list control is then displayed in a Panel Window that animates in from the left side of the screen. Icons are typically displayed for each menu choice. CSS Icons are ideal for these types of icons. In this video we show how a List can be easily configured to display a menu. Each item in the List has a CSS Icon in it.



Creating a 'Split-View' using the Pre-Defined 'Split-View' Template

A common pattern in mobile application is the 'split-view' which shows a menu on the left and a work area on the right. On a phone, were space is limited, the menu is hidden and only shown on demand, but on a tablet, the menu is always shown. In this video we show how you can quickly create a UX component that implements a split-view by selecting one of the pre-defined 'split-view' templates. We then explain some of the concepts behind the component.

Watch Video - Part 1
Watch Video - Part 2
Watch Video - Part 3