Mobile Helix - a mobile enterprise security company, recently published results from a survey indicating there is a huge gap between the desire for mobile business applications and the ability of companies to actually get these applications built!
An article summarizing the problem is shown below. It gives a good overview of why we built Alpha Anywhere, our new mobile development and deployment platform, in the first place.
In summary, we recognize that for most business applications, going the "native" route is simply too expensive, too time consuming and requires access to programmers who have specialized mobile development skills (Objective C, Java etc.)
Having accepted that HTML5 is the way to go, still leaves companies with a problem - namely that HTML5 also requires a fair amount of low level coding and knowledge in areas such as HTML5, CSS3, JavaScript, SQL, Web Services, mapping data onto Google Maps, reporting, handling of images and video, dashboards, charting, etc.)
Speeding up and simplifying the development of HTML5 business applications to empower a broader base of people to build these mobile applications -- along with desktop/laptop Web applications -- is what led us to Alpha Anywhere.
So far, customers tell us we have succeeded!
Cost, complexity and security concerns hold back mobile enterprise apps
The article can be reached here http://betanews.com/2013/07/31/cost-complexity-and-security-concerns-hold-back-mobile-enterprise-apps/
or is also shown below for convenience.

By
Ian Barker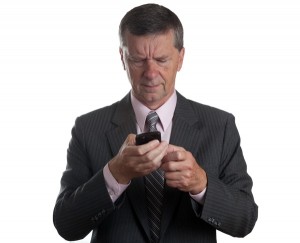 Enterprise application and data security company Mobile Helix has announced the results of an independent survey of CIOs. It shows a large percentage of businesses delaying the roll out of enterprise apps on mobile devices thanks to concerns over security, costs and complexity.
Highlights of the survey, conducted among 300 CIOs in the US and UK, are that companies on average had over 400 applications within their organization but that only 22 percent of them could be accessed from mobile devices despite clear demand from employees for mobile access. Major barriers to adoption are development and support costs along with security.
Matt Bancroft, Co-Founder and COO for Mobile Helix says, "Users expect critical data and applications to be available on any device and in any context, both in mobile and fixed environments, in the way that is most familiar and convenient to them. CIOs understand the obvious benefits of empowering employees and making them more productive, yet only a small proportion of enterprise apps and critical data are currently mobilized".
A high proportion, 81 percent, of respondents to the survey say they believe the cost of developing apps for mobile use is too high because of the fragmented nature of the mobile market. Only a third of respondents felt they had the necessary skills to develop native mobile apps. Of companies that had developed a native app, 47 percent said they would have reservations about doing so again because of the cost and complexity involved.
"The current approach to mobility is limiting the market -- enterprises are now looking for solutions which will allow them to develop and deliver apps to their employees simply and cost effectively," Bancroft adds. "Every device platform on the market today has a high performance, HTML5-compliant engine. By taking this HTML5 browser-based approach, corporate IT can build a unified applications platform that extends across devices of all shapes and sizes, without compromise in functionality, performance, or security".