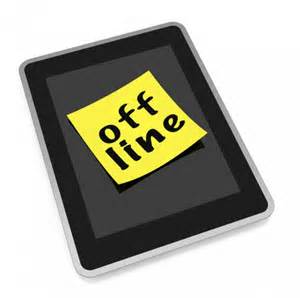 With the state of connectivity today - which often cannot be relied upon to be always available, the answer to this question may indeed be "yes".



If you are currently using a mobile device (and who isn't,) what is likely to be clear to you is that even in the most sophisticated and developed parts of the world, that mobile connectivity and bandwidth issues are real and will not be solved any time soon.

A few years ago people were confident that the goal of ubiquitous, fast and affordable connectivity was going to be solved soon. The thinking was that coverage and bandwidth were sure to increase rapidly. However it is increasingly looking like this is simply not the case. Capacity problems, spotty coverage and areas with zero reception and unreliable connections (both Wifi and cellular) are here to stay for the foreseeable future.

By definition, you want to use and do your work on your mobile device when you are moving about. In fact, some subways and trains and planes do offer connections but often at a very high price. As a general rule, you cannot rely on always having a connection when you are mobile or using a mobile device.

Also if you are working out in the field doing any kind of maintenance, repair, inspection, construction and exploration work you are going to be without signal at least some of the time. If you are in sales, you don't want to worry if the customer is in a dead cellular zone are in a part of building with Wifi coverage where the coverage is unreliable – such as in warehouses, basements etc.

So what does this all add up to?
We cannot keep building with the old mindset of permanent and fast connectivity where a temporary loss of connection or where slow connectivity is regarded as an unexpected case. Applications have to be designed at a fundamental level where there is the expectation is that connectivity is going to be unreliable and unpredictable and that the application should work well in this kind of scenario

In the same way that people have been talking about building apps with the mind set of "mobile first", it may be time to think about designing and building applications with an "offline-first" mindset. With this view of the world, offline mode isn't merely a contingency, but is a fundamentally more flexible and fault-tolerant way of application design.

We certainly know of at least one one group that would be happy to see this direction being followed - namely. businesses and enterprises - see chart below

Please note: Alpha is far along in allowing people to develop mobile (and web) business applications easily and quickly that can work without having to have a connection. For more information please email marketing@alphasoftware.com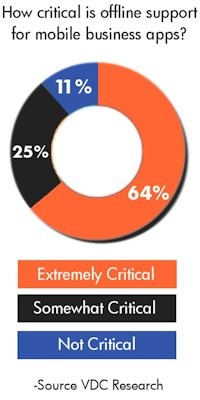 Postscript.

This blog post was published on Friday the 25th of April. On Monday we received this note from Clint Griggs who is the Manager of Information Systems at American Pool Enterprises who has previewed the upcoming offline capabilities in Alpha Anywhere in this blog post.


This blog should have concluded with:





"At Alpha, we've anticipated this trend and will be providing you, the developer, this functionality.





You'll be able to design apps that assume you will regularly have spotty to no connectivity and sync collected data when you do.





Imagine how satisfied people will be when they won't EVER have to worry about connectivity while in the field.





The revolution to providing offline design is coming soon, Alpha is leading the way."