Susan Hussey Bush's new Alpha Anywhere book is now available from Liberty Manuals.


Sample pages: Chapter 3: Powerful Prodigy Chapter 4: Awesome Addtions Chapter 6: Solid Security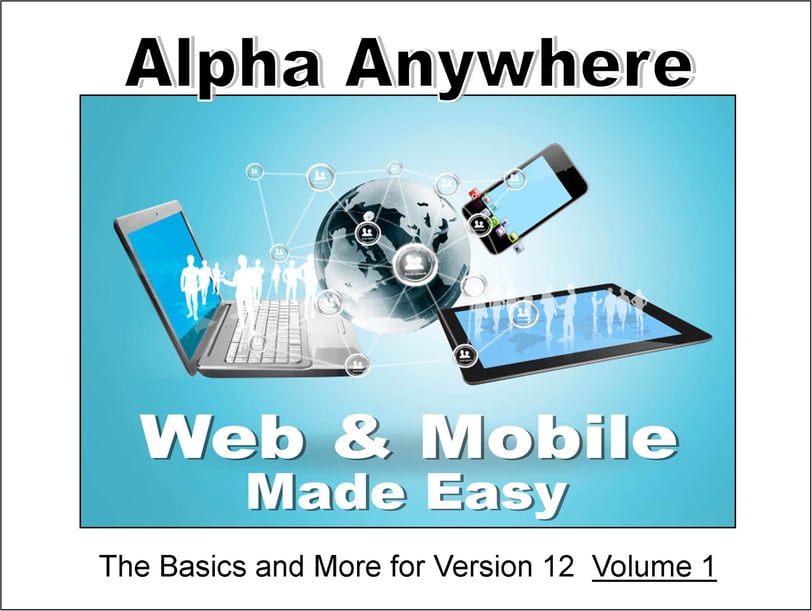 ​

​

Step-by-step tutorial for learning to create web & mobile* applications. For experienced programmers and non-programmers. Available in Hard Copy, Book on CD and Electronic Download Edition.



Everyone will learn a how to create professional web and mobile applications.


Programmers will be able to take what they learn here and go on to develop sophisticated applications in a fraction of the time required with other methods.


Alpha Anywhere makes it easier than ever to share data over an intra-net, the Internet and/or mobile devices.In this book you will learn how to design web and mobile applications using Alpha Anywhere's revolutionary concept that combines RAD (Rapid Application Development) with the ability to modify the code as desired - it's RAD without compromise!This book follows the same step-by-step format that has made Susan's books famous in the Alpha Anywhere world.
Here's a hint of what's inside:


The principles of web and mobile applications and how Alpha Anywhere makes it easy and fast!


How to create a web application in no time at all!


How to design mobile apps with the UX Component!


How to add maps, calendars, videos and more to your application!


Learn about web pages, publishing, projects and more!


How to create a rock solid security system!


How to use date and time pickers, lookups, master-detail and more!


Learn the difference between client-side and server-side calculations!


How the help system will keep you going long after you finish the book!


How to go live - and more good stuff!


How to take full advantage of the Web Project Control Panel!


​
​