The Alpha Five development community amazes me each and every day with the innovative tips and tricks that they come up with. They may start using Alpha Five as a prototyping tool, but as you'll hear below, Alpha Five's Rapid Application Development (RAD) capabilities lead to other benefits.

Recently, Charles Andersson, a longtime Alpha five user, was faced with a specific need, and found nothing on the market that could accomplish what he wanted. In short, Anderson turned to Alpha Five to build what was to become a solution to his time management, project tracking and billing challenges for a large-scale project that he was the System Architect for.

Originally, Andersson chose Alpha five as a framework to develop a prototype for the back office. The goal was to quickly develop working demos of applications for potential customers. However, as Andersson puts it "by selecting Alpha five for this we got more than a prototype tool, we get the full framework for developing the end user experience using a RAD tool that saved us thousands of hours."

Here is yet another example of how Alpha five extends well beyond the basic elements of rapid application development, and delivers a toolset that keeps on giving. Perhaps, the best example of this can be found in how Andersson explains his application and the associated development process.

In Anderson's own words, he explains the project challenge and how Alpha Five fit into the solution and saved countless development hours:

My company had set out to develop a system for a mobile/web work-time and material billing service. I was the System Architect on the project and had extensive help from my colleague, Anders Enges. My primary role was architecting the platform, database and selecting the tools and frameworks to develop the system. I was also responsible for developing the backoffice web application.

We built the system using Alpha Five and the associated Alpha Five web application server, which handled the backoffice functions. We also used .NET / Visual studio to develop a middleware (Router) handling the communication between the mobile app and the SQL Server Database and the MoSync framework for the mobile app.

The application is designed to collect work-time and delivered materials in real time, record positions, (capture photos and voice messages planned for a future release) with mobile devices to produce billing information easily and effectively.

It became clear early in the project that we needed some kind of framework to develop a prototype for the backoffice – primarily so that working demos could be showed to potential users. After extensive research, we selected Alpha 5 and got much more than we bargained for. Simply put, Alpha Five not only worked well as the prototype tool, we also benefitted from Alpha Fives ability to create the full framework for developing the end user experience. As an added bonus, Alpha Five's RAD methodology saved us thousands of hours in development time.

The system has been designed for use in multiple languages and the database has a multi-tenant architecture so it can be deployed as a cloud service. In this case we selected to deploy the service on Microsoft Azure.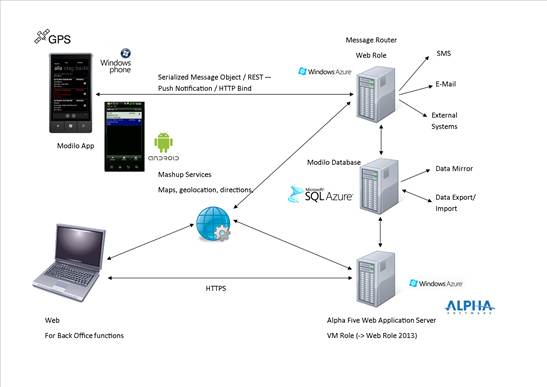 The resulting application met our needs and exceeded our expectations



An important feature of the system is its implementation of push notifications. We have implemented our own push technology that works across multiple mobile platforms without involving any platform specific external service. This means that changes in the backoffice are pushed immediately to the client devices.

[See another one of Charles' projects. Download Alpha Five.]

Conclusion:

By leveraging Alpha Five's RAD methodology and ability to integrate with other products, Andersson was able to build a mobile app front end with a web based back end system in a fraction of the time it would have taken using traditional development tools.

About Charles: Charles works as an independent System Architect and consultant and has more than 25 years of experience architecting and developing Business Systems.