Alpha Five v11 developer Marcel Onck provides a video overview of his Windows HorseBase software application development effort, and explains how he used Alpha Five v11 web components to create a powerful and robust Windows desktop application:
---
by Marcel Onck

Marcel who is based in the Netherlands writes - The video shown here is a presentation of the software that I am currently developing with Alpha Five v11, and which is a windows desktop application built only using Alpha Five v11 web components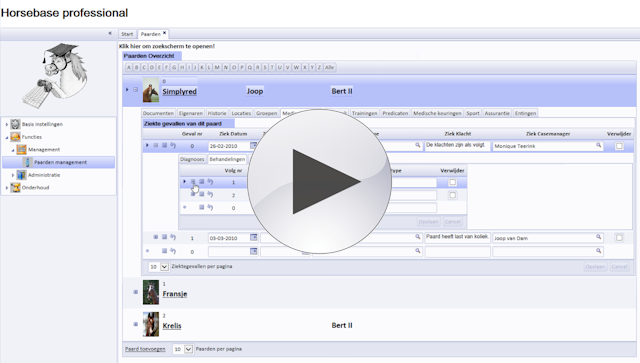 Using web components on the desktop turns out to be a sport of its own. It has its own rules, but the prizes are huge and really, the old desktop cannot even come close to the results you are able to achieve using Alpha Five v11 web components on the desktop.

An extra advantage to all of the powerful features the web components offer on the Windows desktop is that it provides great flexibility and a coherent and systematic approach through the whole application.

The "tree control" approach does not quite give credit for how far the application has progressed since many functions go in layers beneath the 3 chapters visible on the main menu of course. There are already over 110 components in the application and it is just about 60% completed. Many of the components will show up in more than one place, so the actual application resulting from this is quite a bit larger.

The application also contains a complete accounting package (again, components only) and it will be covering an entire company in the horse industry - following the "one stop solution" method.

More Power for the Desktop
While there is much more to the application than what is shown in the video, it should give a sense of how powerful web components can actually be on for building windows desktop applications.

When tailored a bit more towards desktop use, one can do without the Windows forms completely. Developers are able to focus on producing one system which can be used by anybody regardless of platform. The use of web components for desktop software application development offers more power than desktop developers currently have, vastly expanding development options and allowing for the creation of more sophisticated apps.