Recommended Learning Path
and Technical Resources
Getting Started
If you are new to Alpha Anywhere, the best place to get started is with our getting started videos. The series starts with a high level overview, continues with a tour of the development environment, and ends with instructions on installing the software. We suggest you watch them in the order we have listed. It takes 25 minutes to watch all four videos, and they will give you a great foundation for building your first application.
Technical Overview, 6 minutes
Development Environment, 8 minutes
Watch an App Being Built, 6 minutes
Install Alpha Anywhere, 5 minutes
Gallery of Browser-Based User Interface Designs for Business Applications
Alpha Anywhere comes with a variety of sample applications built-in. One of those applications provides working examples of many different user interface variations for displaying data from databases in a browser. This 10-part video series will help guide you through this sample application, explaining each of the examples and showing you, for each example, how to find more information about how you can build something like it. Watch the videos now →
Building Your First Application
Once you have installed Alpha Anywhere, a great way to learn is by doing. Learn how to build mobile and web applications following our step-by-step Getting Started Tutorials.
Build Your First Mobile Application
If you need to build mobile applications that can be used in the field, start with our Build Your First Mobile App Getting Started tutorial. In this tutorial, you will learn the core foundations of building mobile applications with Alpha Anywhere. In this step-by-step guide, you will build a responsive mobile web application with data integration and disconnected application support. Your mobile web application will include the ability to search, add, edit, and delete information in a SQL database. Click here to start building your first mobile application.
Build Your First Web Application
If you need to build corporate applications that will predominantly be used in a desktop environment, start with our Build Your First Web App Getting Started tutorial. In this guide, you will build a web application with data integration that can be deployed online or on a private intranet. We'll teach you how leverage the Flying Start Genie to quickly build a web application to edit data in a SQL database. Click here to start building your first web application.
Video Library, Help System, and Documentation
When it's time to build your own application, there are 3 primary Alpha Anywhere reference material resources: the Video Library, the Video Finder, and Help Documentation.
Alpha Anywhere Video Library
The Video Library is the best source of videos for those evaluating Alpha Anywhere before making a purchase. It collects all of the Alpha Anywhere documentation videos, feature overviews, webinar replays, and more into searchable categories. The Video Library is updated on a near daily basis so make sure to bookmark it and check back often! Explore the Video Library
Alpha Anywhere Video Finder
The Video Finder can be opened from within Alpha Anywhere after you have downloaded and installed your free trial. This is a useful resources to reference while you are doing development. You can access the Video Finder from within the software by choosing Video Finder from the Help menu.

Alpha Anywhere Help Documentation
The Alpha Anywhere Help Documentation is your resource for learning Alpha Anywhere. Here you will find both tutorial and reference material, including How To guides, Troubleshooting tips, answers to Frequently Asked Questions, Users' Guides, API References, and more. Build-in tools for searching, printing, and sharing articles make navigating Alpha Anywhere's documentation system easy.
You can access the Alpha Anywhere Help Documentation from within Alpha Anywhere by choosing Open Documentation from the Help menu. Or, you can click here to visit the documentation site.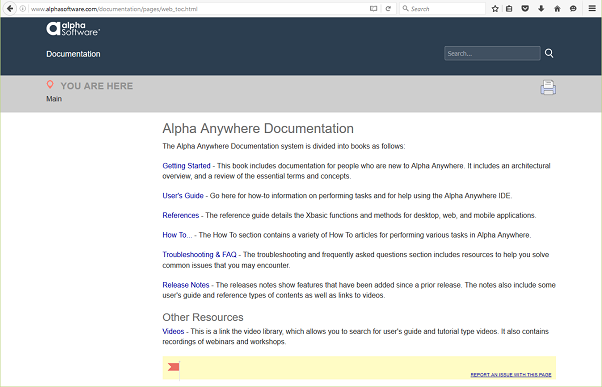 Alpha Anywhere Message Board
The Alpha Software Message Board is an active community of Alpha Anywhere developers. It is a wonderful resource to both learn and share with other developers. The message board is maintained and monitored by Alpha Software—and registration is required to search or post messages or questions.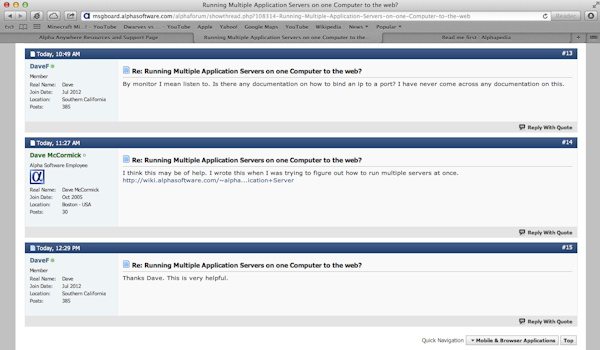 You can register for an account here. To keep our message board spam free, we will require your first post to be approved by a moderator. If you encounter any difficulties registering, please use this contact form to reach us and we will gladly help.
Alpha Anywhere Technical Support
Support for People Evaluating Alpha Anywhere
If you are new Alpha Anywhere and would like support to help you evaluate it, please fill out the form on the new user support page or call us at +1 781.229.4500 M-F, 9am-6PM EDT.
Support for Installation
Should you encounter issues during installation or startup, please send an email to custserv@alphasoftware.com or call us at +1 781.229.4500 M-F, 9am-6PM EDT.
Technical Support Incidents and Mentoring
Advanced support options are also available. These include technical support incidents, where we work with you to solve a problem, and mentoring, where we match you with a qualified Alpha Anywhere expert that you can turn to for advice. See our Services page for information on these options.
Professional Services
Need help building your application? Our professional services division—Alpha Consulting Services—provides you with everything you need to get your custom business applications off the ground. Our certified Alpha Anywhere development team can develop, deploy and maintain sophisticated, mission-critical HTMl5 business apps for you in the fastest, most cost-effective manner possible. To submit a project request, simply fill out this form.
Resources From Partner Companies
In addition to resources available from Alpha Software, we also work with partners, who offer books, training courses, and application hosting services.
Liberty Manuals
Liberty Manuals specializes in printed (and electronic) documentation for Alpha Anywhere. This includes tutorials, reference guides, how-to manuals, and more. Their website is www.libertymanuals.com.
ZebraHost
ZebraHost is our trusted hosting partner, with a lot of experience in hosting applications of all sizes. They help with cloud hosting, load balancing, scaling, security, and more. Their website is www.zebrahost.net.