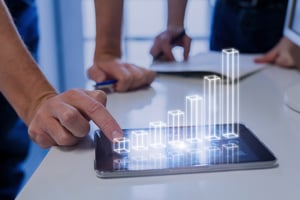 At Alpha Software, our mission is to you help you grow your business - either through ensuring that powerful custom
web and mobile business apps
can be built for companies, or through allowing software companies to rapidly build feature rich commercial mobile and web SaaS apps.
Today we're excited to share that out of
3,500 SaaS companies
last year, Alpha Software was in the Latka top 5% in terms of revenue growth rate. This is a clear sign that our software platforms continue to be very well accepted as we scale the company.
Big thanks to all of you for helping us grow approximately 50% over the past 12 months, landing us a spot in the
top 100 fastest growing SaaS companies.
How We Compare to Other SaaS Companies
The top 150 fastest growing private SaaS companies in 2019 together added over $1.2 billion in new ARR. When you put all of us together, we employ over 11,383 employees serving 697,428 customers.
We're proud to say we've driven our growth - thanks to all of you!