Why Is No Code Application Building the Wave of the Future?
Those that have never seen a no code application development solution at work may have doubts about how apps can be built without any code at all. It's known as no code app building, and a no code app builder can help you, your team, your department or your organization create high quality apps without all that tedious programming. Better yet, no code app builders allow non-programmers to get involved via easy-to-use graphical user interfaces instead of the mountains of lines inherent in traditional application development.
This can have the added benefit of allowing those who understand how the app should work to have a shot at actually creating it. Rather than explaining it all to programmers that then have to interpret the instruction and implement it according to their business processes and workflows, no code app builders allow users to code apps without having prior knowledge and training in programming to do the work.
How Can You

Build No-Code Apps?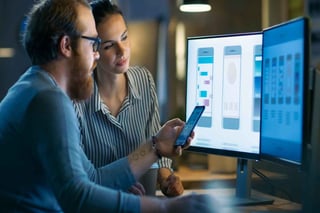 The beauty of no code app builders is that non-programmers can build pixel perfect apps without coding experience or having to work with code at all. That can help future-proof your development by keeping everything easy to understand and work with, as well as reducing the complexity of competing development environments, deployment processes and that all-important testing.
With no code app building, you'll get convenient tools that allow just about anyone to create and edit apps, all without knowing how to program. It all works because the no code mobile app builder creates all the relevant code underneath while the end user gets the convenience of a GUI and a drag and drop interface that negates the need to know code up front. Simply drag and drop elements into your application and the software does the rest!
How Can No Code Programming Help?
The best thing is that no code app builders aren't just for small, throwaway applications. In fact, no code app builders are being used in advanced development environments in leading industries across the world today, and the results have the same degree of high functionality that you would expect from the world's top companies.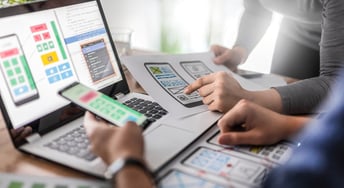 Even simple apps that merely store data can be created with no code development. Instead of overleveraging your company with off-the-shelf tools such as Microsoft Excel and Google Sheets, a no code app builder can quickly get you up and running with a data entry tool that's customized to your precise need.
Forget about entering data into countless Excel sheets, only to be quickly forgotten later -- no code app building can help you quickly spin up a cloud-based app to quickly store and access data, providing precisely what's needed at a glance.
For more ways in which no code app builders can help you, check out our industry solutions, as well as a free license for our Alpha Transform product.
Why is Alpha Software the Best
Codeless App Builder
?
Alpha Software offers the best no-code app builder given its easy-to-learn and easy-to-use nature. While other platforms boast of these capabilities, their user-unfriendly infrastructure and unstable platforms can end up creating a negative end-user experience.
With Alpha Software, however, you gain a codeless app builder that enables you to do more with less software-building demand.
No-code app builder benefits you can anticipate include the ability to:

Analyze data in custom app creator no-code dashboards

Generate reports through codeless app builder

Export data to common formats

Easily handle forms of any complexity or length from simple purchase orders to multipart documents with the easiest no-code app builder

Barcode lookups and GPS capture

Audio, photo capture, signatures, and annotation

Flexible role-based permission system

Built-in workflows for automating business processes

This AlphaTransform functionality ensures that your team can build apps whenever, wherever. We're committed to creating and optimizing a platform that works like you do, which is why we're the best no-code app builder on the market.
What to Look for in No-Code Builders?
As you assess no-code platform vendors for the best no-code app builder, you should look for a few key things.
Mobile Friendly
If you have a mobile workforce, you need a no-code mobile app builder that is equally mobile. Ensure that your employees don't have to go through any extra development steps for the app creator no-code to work on their mobile devices.
Functionality
Before selecting a no-code app builder, ensure that you have compiled a complete list of your employees' tasks and processes. If the platform can't successfully execute those processes you're likely not looking at a user-friendly app builder for your specific needs.
Technical Support
Does the codeless app builder you're considering offer ongoing technical support? If they do, is it effective? Be sure to read consumer reviews to understand what technical support looks like beyond the initial promise.
Simple and Scalable
The goal of nearly every business is to grow. Does the app creator no-code platform you're considering have the ability to evolve with your needs as your transition from a small to a medium business or from a medium to a large one? Ideally, you'll find the best co-code app builder that grows alongside you.
How Do You Compare No-Code Platforms?
As your search for the best no-code app builder for your application developers, there are a few key resources you can use to compare those on the market.
Demos
Demos are free and easy, allowing you to see the platform in action. When you opt to demo a low-code solution, you see the product in real time, while also comparing functionality to that of its competitors.
Software Review Sites
Software review sites like G2 can go a long way in helping you find the easiest no-code app builder. Brimming with customer reviews and testimonials, you can compare products and read FAQs.
Social Media Reviews
While software review sites can offer excellent insight, so can the unregulated world of internet forums. You can search social media websites like Twitter for reviews or other platforms. Either way, you can gain a different perspective from the review on sites like G2.