Why Is No Code Application Building the Wave of the Future?
Those that have never seen a no code environment at work may have doubts about how apps can be built without any code at all. It's known as no code app building, and a no code app builder can help you, your team, your department or your organization create high quality apps without all that tedious programming. Better yet, no code app builders allow non-programmers to get involved via easy-to-use graphical user interfaces instead of the mountains of lines inherent in traditional app development.
This can have the added benefit of allowing those who understand how the app should work to have a shot at actually creating it. Rather than explaining it all to programmers that then have to interpret the instruction and implement it according to their business processes and workflows, no code app builders allow users to code apps without having prior knowledge and training in programming to do the work.
How Can You Build Apps With No Code?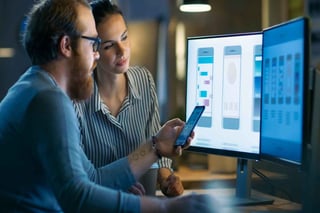 The beauty of no code app builders is that non-programmers can build pixel perfect apps without coding experience or having to work with code at all. That can help future-proof your development by keeping everything easy to understand and work with, as well as reducing the complexity of competing development environments, deployment processes and that all-important testing.
With no code app building, you'll get convenient tools that allow just about anyone to create and edit apps, all without knowing how to program. It all works because the no code mobile app builder creates all the relevant code underneath while the end user gets the convenience of a GUI and a drag and drop interface that negates the need to know code up front. Simply drag and drop elements into your application and the software does the rest!
How Can No Code Programming Help?
The best thing is that no code app builders aren't just for small, throwaway applications. In fact, no code app builders are being used in advanced development environments in leading industries across the world today, and the results have the same degree of high functionality that you would expect from the world's top companies.
Even simple apps that merely store data can be created with no code development. Instead of overleveraging your company with off-the-shelf tools such as Microsoft Excel and Google Sheets, a no code app builder can quickly get you up and running with a data entry tool that's customized to your precise need.
Forget about entering data into countless Excel sheets, only to be quickly forgotten later -- no code app building can help you quickly spin up a cloud-based app to quickly store and access data, providing precisely what's needed at a glance.
For more ways in which no code app builders can help you, check out our industry solutions, as well as a free trial for our Alpha Transform product.