What is digital transformation, how can it impact your business strategy, and where to start transforming your business models?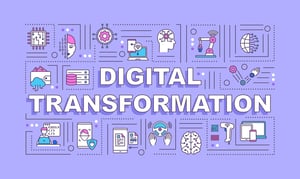 A recent ITPro article cuts through all the buzz and discusses the real practical benefits - and challenges. The article explains that digital transformation is the "process of using technology to radically change your business."
Digital transformation does not focus on a single project. Instead, it "describes a series of projects that, together, change every facet of an organisation, from back-office operations to customer interactions, often with the end goal of making these different processes intrinsically linked."
Transforming your business processes with digital technology means changing the way that cross-functional teams work. It involves challenging their mindsets about existing processes. Although this business transformation can be difficult, the effort allows a business "to become more efficient, data-driven and nimble, taking advantage of more business opportunities."
Why You Should Care About Digital Transformation Initiatives
All this may sound abstract, but these initiatives offer big payoffs for companies who do it right. IDC says that digital transformation projects could add $18 trillion in business value worldwide.
A related Gartner report found that 66 percent of companies in the process of digital transformation expect to generate more revenue, and 48 percent believe additional business will be brought in via digital channels. As for other benefits, 40 percent of respondents to the Gartner survey said new digital tools will empower employees. Thirty-nine percent said it will reduce costs.
---

Digital Transformation "How-To" Whitepaper:
Best Practices for Driving Digital Transformation at Your Organization
---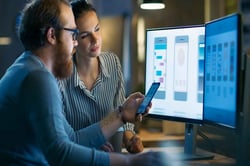 What Technologies Companies Should Focus On
Companies have many different types of technologies, and they're not all created equal. Companies should adopt technologies that "help them harness and make sense of the vast quantities of data they are sitting on, as well as preparing for trends like the Internet of Things (IoT) and mobile."
---
Digital transformation requires technologies that harness and make sense of big data companies collect.
Initiatives should consider mobile, cloud computing, artificial intelligence, machine learning, and IoT.
---

How to Design the Right Digital Transformation Strategy
The authors of the article note that key to the success is designing the right strategy. A related Deloitte report, "Strategy, not Technology, Drives Digital Transformation," advises companies not look at technology as an end in itself, but rather a means of business transformation.
In his report "Take Two Technology Roads to Digital Experience Success," Forrester analyst Ted Schadler recommends that business
es give first priority to investments that benefit customers and generate business value. After that, companies should embark on two parallel paths: launching quick projects that offer fast payoffs, and a long-term transformation.
The long-term path will ultimately have a bigger payoff. In this path, he says, "You will define, select, and implement a modern platform to deliver long-term agility and capabilities. The cloud is also your friend here: It's the future of digital experience platforms."
Not sure how to start your Digital Transformation strategy? Resources to help:
View our entire library of digital transformation articles.
---
Finding the right mobile app development platform that delivers outstanding customer experiences is critical. Read the questions to ask to accelerate your digital transformation and select the right development platform.