Successful digital transformation involves replacing old, obsolete tools and processes with cutting-edge technologies and software applications to speed work. This business strategy improves user experiences, streamline operations and increase productivity by transforming manual processes into high-speed digital ones. One example is how it can innovate supply chains.
Digital strategy does not focus on a single project. Instead, it describes a series of projects that together speed and improve how all aspects of a company operate.
ITPros explains that these efforts "change every facet of an organization, from back-office operations to customer interactions." Companies that execute an effective digital transformation strategy can even achieve the end goal of making these different processes linked. Although this business transformation can be difficult, the ROI can be enormous. Companies that successfully become digital businesses are "more efficient, data-driven and nimble, taking advantage of more business opportunities."
Digital Transformation Journeys Require a Cultural Shift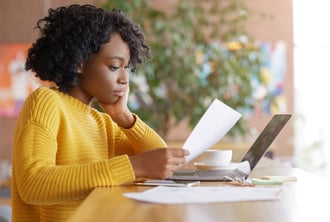 Transforming your business processes with digital technology means changing the way that cross-functional teams work. It involves challenging employees' mindsets about existing processes. It applies mobile devices and innovative technology to better connect the organization and evolve employee experiences.
This cultural shift encourages faster, more accurate information flow across the business. It drives improved efficiency to achieve business goals.
These initiatives are not just about technology, they're about changing how a particular company thinks about its business models. Digital Transformation requires a different mindset about how to assess and streamline tasks and may be different for each business.
Why Does Digital Transformation Fail?
Digital transformation initiatives can fail when they don't have executive support. They'll also fail if they haven't been clearly thought out. Another roadblock can be a lack of commitment from the wider organization or project stakeholders.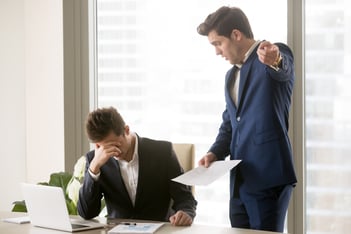 Management consulting firm Everest Group found that 73% of enterprises failed to provide any business value from digital transformation efforts. In addition, 78% failed to meet their business objectives, meaning that only 22% of projects achieved their desired business results.
Companies shouldn't just buy new digital technologies and ask employees to use them. Digital transformation projects should review current workflows and processes with the goal of streamlining that work. Accurate data collection and fast delivery of data should also be a focus.
Strategy & Initiatives for Digitally Transforming Your Business
Remember that technology can not only automate tasks. It can also enhance information sharing and collaboration between employees, thus minimizing the time for making decisions. Digital transformation goes much beyond simply replacing outdated technologies or processes with newer ones. It requires a completely new approach.
Citizen developers need to take a careful look at routine business activities. They should understand how employees do this work, what processes they use, and where they could streamline efforts. They need to understand how business data is used during the process and what data is needed. Only then can they have a clear understanding of what employees need to perform their jobs better.
Once a proper examination is done, the team can determine where processes can be engineered with digital technologies. Companies can then take steps to source and assess specific digital tools or social media integrations that can help.
Further reading: MIT Sloan report on building digital workplaces.
Measuring the Impact of Digital Transformation Initiatives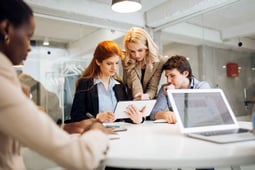 All this may sound abstract, but these initiatives offer big payoffs for companies who do it right. IDC says that digital transformation projects could add $18 trillion in business value worldwide.
A Gartner report found that 66 percent of companies adopting digital transformation expect to generate more revenue. In addition, 48 percent of companies believe additional business will be brought in via digital channels. As for other benefits, 40 percent of respondents to the Gartner survey said new digital tools will empower employees. Thirty-nine percent said it will reduce costs.
Organizations that respond to the changing times are clearly the ones that will be ahead of the game. These companies are challenging employees to adopt new technology to streamline processes, cut costs, increase efficiencies, and improve customer outcomes.
---
Digital Transformation "How-To" Whitepaper

:
Best Practices for Driving Digital Transformation at Your Organization
---


How to Design the Right Digital Transformation Strategy
The authors of the ITPros article note that the key to success is designing the right strategy. A related Deloitte report, "Strategy, not Technology, Drives Digital Transformation," warns companies not to focus only on technology adoption. He advises companies to use it as a means of overall business transformation.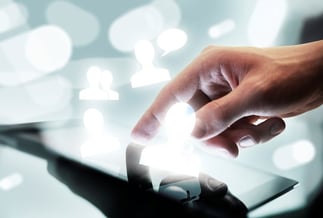 In "Take-Two Technology Roads to Digital Experience Success," Forrester analyst Ted Schadler makes specific recommendations for the first steps. He advises businesses to give first priority to investments that benefit customers and generate business value. After that, companies should embark on two parallel paths: launching quick projects that offer fast payoffs, and a long-term transformation.
The long-term path will ultimately have a bigger payoff. He suggests, "define the digital transformation outcomes you desire and then select and implement a modern platform." According to Schadler, this will deliver long-term agility and capabilities. He makes it clear that companies should leverage cloud technologies: "It's the future of digital experience platforms."
---
Digital transformation requires technologies that harness and make sense of big data companies collect.
Initiatives should consider mobile, cloud computing, artificial intelligence, machine learning, and IoT.
---
Examples of Successful Digital Projects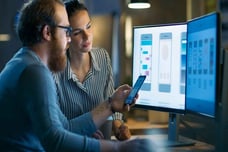 You don't need to work for a large enterprise with a large budget to become a driver of digital transformation. Here are examples of companies used low-code software to start a digital transformation project.
Morgan Lambert

is

a UK-based company that specializes in gas and electrical safety management for public housing projects. The company wanted to speed energy inspections, improve safety and cut costs. By abandoning paper audits and moving inspections to mobile apps, the company sped work and improved safety.

The City of Islip, New York needed to move paper and manual processes digital to better serve citizens. One developer was able to digitize many paper-based processes with low-code software. He built more than 60 apps in months, a process that would've taken more than a year with other methods.

GBS Enterprises provides a wide range of "protection" services to the furniture, mattress and bedding, and pest control industries. It was looking to increase the productivity of its field service workers as well as the rest of the enterprise.

The company digitized its call center and service dispatch operation by adopting

mobile forms

.

Since going digital, the company has realized an 80% increase in productivity.

The Royal Borough of Windsor built Volmapp - a mobile app for vulnerable citizens during the COVID-19 pandemic. It connects users to the services they need, including transportation to doctor's appointments, prescription delivery, and more. The app takes the process entirely paperless, speeding work and creating a faster more informed customer experience.
Digital Transformation Resources

A few years ago, going digital or going paperless was a challenge. The software developers you needed were hard to find and hire and the software wasn't easy to use. Everything has changed with the advent of low-code and no-code software.
Now, even the smallest companies can get started with some simple apps. Companies that are more ambitious can implement wider digital transformation strategies. These tactics might include data cleansing, big data analytics, and even Robotics, AI/ML, or IoT.
We've assembled some data, guides, and advice to help you get started:
Digital Technologies to Transform Your Business
The meaning of digital transformation is not just limited to leveraging advanced technologies to streamline processes and drive efficiencies. It also includes harnessing and analyzing data to make sense of the big data that companies collect. Initiatives should consider mobile, cloud computing, artificial intelligence, machine learning, and IoT.

Finding the right mobile app development platform that delivers outstanding customer experiences is critical. Your solution must integrate with your existing software, collect more accurate data, and take advantage of the opportunities of mobile computing. Based in the United States, Alpha Software offers the best technology to deliver on these needs in the digital age.