Offline Apps News:
Leading Independent Research Firm Recognizes Alpha Anywhere as a Low-Code Application Platform that Can Produce Apps that Work Without an Internet Connection, Which is "Often the Most Expensive (Yet Valuable) Feature"
Alpha Anywhere 3.0 is the industry's first mobile application development and deployment environment with robust offline support built-in - allowing offline applications to be built, without adding any cost or time.

Alpha Software Corporation today announced the industry's first application development and deployment environment with built-in offline support, for building offline mobile applications without added time or cost. This built-in capability in Alpha Anywhere 3.0 allows a transactional business app to operate effectively while disconnected from a network, and solves what

Forrester Research

identified in its September 2014 report, The Offline Mobile Challenge, as "often the most important and difficult mobile feature" for business today and "a consideration for nearly every future modern application."

"Mobile business applications aren't truly mobile if they can't work offline," said Richard Rabins, Alpha Software Corporation CEO. "Until now, organizations were faced with a tripling of time and cost when adding offline functionality to a business app. Alpha Anywhere has transformed business application development so that developers can add robust disconnected operation into business apps with virtually no incremental effort or cost."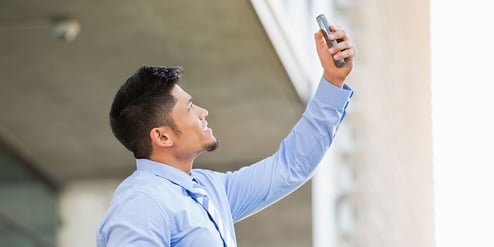 The promise of mobile computing is that people can work anywhere, anytime, but mobile business apps require an Internet connection to be productive. On planes, at construction sites, in factories, warehouses and remote sites, and even in major cities, WiFi, 4G, and even 3G connections are often unavailable, intermittent or expensive. Critical business apps – whether processing vital customer or sales information, or even patient, inventory, manufacturing or service data – cannot power today's organizations if they only work while online.

According to Forrester in The Offline Mobile Challenge, the new release of Alpha Anywhere "supports a very robust solution for HTML5 implementations" needing offline apps. A robust solution is one that integrates fully with transactional back-end systems of record, with intelligent conflict resolution versus simplistic "last-write wins". New offline capabilities in Alpha Anywhere include:


Fine-grained control of write conflicts, beyond a simple "last-in" wins approach;
Data persistence when the business app is closed or the battery dies, including data not saved to the server;
Built-in support for converting SQL data into hierarchical JSON data sets - e.g. customers, their orders, and the order details;
'Offline capable' applications with no additional development time.
"Previously, offline support, which is critical for our mobile apps, had been simply too expensive and complex," said Karen Snyder, CIO at American Pool. "We reviewed several other application development solutions, but found that they were far too expensive, even without built in offline capabilities. We have been impressed with Alpha Software, which is constantly innovating and is focused on saving us time and money. We are particularly pleased with the offline capabilities seamlessly built into Alpha Anywhere."

Alpha Anywhere leverages HTML5 to build cross-platform business apps with native business app performance. It empowers developers and domain experts who are familiar with web technologies and database applications, yet requires proficiency in neither. Alpha Anywhere developers have often previously used Microsoft Access, Visual Basic, PowerBuilder and Delphi, as well as web development tools.



Alpha Anywhere is the complete, standards-based, front-end to back-end, prototype-to-production environment to rapidly and cost-effectively develop and deploy enterprise-level, cross-platform mobile and web business applications. Its low-code approach provides developer-friendly visual tools which easily integrate custom code written in common computer languages. It utilizes a single code base across all deployment platforms, and accelerates development by a factor of 5 to 10 over traditional approaches. Alpha Anywhere applications easily access and integrate with existing databases and web services, and can exploit built-in role-based security, reporting, business charting, scheduling, mapping and geo-location, and advanced media handling. With Adobe® PhoneGap™ Build integration, Alpha Anywhere enables app download from popular app stores and direct access to device hardware, such as the accelerometer, device storage, and camera (including bar code scanning).

Additional Resources
Watch demos of Alpha Anywhere's offline capability and read an essay by Dan Bricklin, CTO of Alpha Software, detailing how to build offline apps.