Forrester Research released a report
saying that offline functionality is the "most important and difficult feature" of modern mobile business apps. So what are offline apps, what can they do for business, and why are they important?
What are
offline apps & digital tools
?
Most modern business apps require a cell phone signal or Internet connection to get tasks done. By using offline mobile app development, you ensure that users can use your app without having to worry about the presence of a Wi-Fi or cell signal. Such a difference may seem small, but it can make all the difference.
In situations where people want to access information or capture information when they need to, offline apps make it possible to:
move content off the server before the user needs it so it's available on the phone when users need to access data,
collect data and store massive amounts of data on the phone if the user is not connected
get important tasks completed and stored in the field without a connection
allow any collected data, record changes, etc. to be uploaded to the server when the user is back online.
Offline capability requires mobile app development to be done to pre-configure the app to work ahead of time to make information available when field workers need it.
What are the Benefits of Offline Applications?
With mobile becoming core to digital transformation, there are 4 core benefits of building strong offline support into your mobile business apps:
1. The ability of the user of the app to be able to do the work assigned to them without any limitations
This is obviously the fundamental reason for offline support in a mobile business app. When a mobile worker (field service, healthcare, construction, manufacturing, energy, mining, hospitality etc.) is assigned a job that requires that they use their mobile device to get the job done, they must be able to accomplish their tasks without being dependent on a connection. Issues with a poor signal are real and occur all the time. In fact, even in non-rural scenarios, there are areas where signal is spotty.
2. Responsiveness and Performance
Because there is not a need to continually connect to a remote server, offline mobile apps are able to deliver greater speed and performance
3. Cost Savings
There is no need to have a wireless/data plan. At $40-$80 per month per mobile worker, these savings can add up quickly.

4. Saves your battery
Offline mobile apps drain batteries at a slower rate than connected mobile apps. This means that field workers using an offline enabled app,
have a good chance of having battery all day versus running out of power before the day ends.
Are Offline Apps Hard to Build?
Offline apps are important, but is it hard to create an app that works even without a connection or signal? Not necessarily.
Analysts report that offline capabilities are typically the most time consuming and expensive part of modern mobile app development. They typically require that the app builder has an extensive understanding of mobile technologies, and these types of apps frequently require native development- which typically takes more time and money than hybrid development. However, in 2015 one vendor, Alpha Software, changed the game by building sophisticated offline capabilities into its low code development platform, so developers could produce offline apps with outstanding reliability and user experience very quickly without needing extensive mobile coding experience.
The Top-Ranked Offline Apps Solution

Alpha Software understands all these challenges and in response, has assembled the most comprehensive portfolio of patented offline capabilities designed to make building mobile apps that address the offline challenge as hassle-free as possible.
Why Do Built-In Capabilities Make Development of Offline Apps Easier?
Alpha Software has built the industry's most comprehensive offline app solution to ensure these benefits and capabilities are a reality in apps developed with Alpha Anywhere and Alpha TransForm.
As a result, developers can build critical offline app functionality into business apps without having to do extensive coding:

Dependability - Functionality When You Need It, With or Without a Connection
Offline apps allow the person in the field to keep on working on any mobile business app without having to worry about the presence of WiFi or cell signal. Users can access records, collect data and storage images or access manuals without cell service or a WiFi connection. when a signal drops, the application performs as if nothing happened.
Smart Signal Detection - Lower Costs Across the Remote Workforce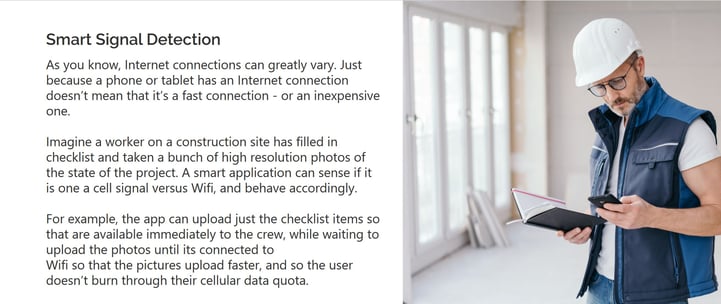 Internet connections can vary, and a connection isn't always fast or cost-effective. Sometimes the field work does not have to constantly be connected to the back-end data on the server. They only need to occasionally be connected to load up and to refresh data. This is something which can be done from home in the morning or from a coffee shop or public place with Wifi during the course of the day.

In this case, the field worker does not have to have a data plan on their mobile device. And if an offline app is smart enough to sense if the worker has a cell signal versus WIFI and behave accordingly, it could have smart, cost-effective rules on when to use a cell signal (to get critical data to the field worker) and when to hold off (when customer service report images are uploaded). The implication of smart offline apps is that companies could then save $40 or $50 per field worker per month. If you do the arithmetic, for a field force of 100 or 1000 workers, the savings would be in $4000-$5000 to $40,000-$50,000 per month range!

Improved Performance - Access To What You Need, When You Need It
If all the data that is being worked on is available on the mobile device, you eliminate the latency of the data moving back and forth from the server across 3G/4G - which results in faster performance. Plus, the worker has all the data, customer records or manuals s/he needs in the field - right at the moment they need it.
Intelligent Conflict Resolution
What happens if two workers change the same data at the same time? This can happen often when a crew (or multiple crews) are assigned to the same project. With Intelligent Conflict Resolution, you have some flexibility in how to handle these situations. You can decide, based on who submitted data (first or last) you can decided based on the rank of the user (line worker vs. foreman), or the system can alert the user to the conflict and ask how to resolve it.

BOYD - Respect for Workers' Personal Preference
In many cases workers bring their own phones to work and use them on the job, also known as BYOD (Bring Your Own Device). For reasons of security and privacy, a worker's personal data and work data need to be kept strictly separate. For example, if a worker needs to take a phone to fill out a report, their work photos should be kept separate from the phone's camera roll, where the worker may have personal pictures. And because phones have limited storage capacity - files should automatically be deleted from the device as soon as they are safely uploaded to the server when a connection becomes available.
How Can I Start Building Offline Apps?
Alpha Software recently released a free version of its award-winning offline app development software, Alpha Anywhere. Alpha Anywhere Community Edition gives you a free license to build an unlimited number of offline apps with the patented software capabilities above.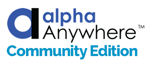 Build offline apps for free using Alpha Anywhere Community Edition or Alpha TransForm
Need more info about your specific needs? Contact us .
---
Where Can I Learn More About
Offline Apps & Digital Tools?
Alpha Software has produced two white papers to help people better understand offline apps, why they're useful to business and how to build them successfully. First, an overview of offline app problems and why offline capability can be such a complex app feature to build. Second, a white paper that explains how Alpha Anywhere allows you to build offline apps easily with its built-in capabilities for robust offline operation.
More resources for learning about offline apps: