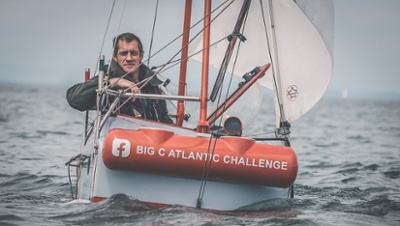 This past week, on Wednesday, April 26th, Alpha Software VP of Product Management Dave McCormick hosted special guest Robin Bennett, founder of Start Software in the UK, in our weekly webinar series.
Robin is no stranger to Alpha Software, or the webinar series, in fact, Robin has presented some of the most powerful and unique applications ever built using Alpha Anywhere, Alpha TransForm and Alpha Cloud. For this reason, he is always a highly anticipated guest, and this past week is no exception. Not surprisingly, Robin thrilled us with a tale of daring and adventure, and custom-built software to boot.
The Goal: Shattering Trans-Atlantic Records in the Smallest Boat
The subject for this presentation was Andrew Bedwell's attempted journey to cross the Atlantic Ocean in a wind-powered craft only 1 meter long. It's called the Mid C Atlantic Challenge and this attempt would shatter the previous record of over 5 ft, held by sailer Hugo Vihlen. Not only is Bedwell's daring attempt a remarkable feat, but he is also using the media attention to support cancer research funding.
Robin took a keen interest in this venture, as he is a fan of those who test the limits of human experience, and in clear support of his charitable goals. Not only did Robin and his company Start Software sponsor Andrew's efforts, but he also provided custom applications to record and transmit data from the journey. The development platforms used were Alpha Anywhere and Alpha TransForm (of course!).
The Application: Offline on the Open Ocean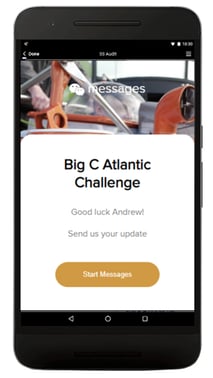 The application, while not itself particularly complicated, is a tool for recording and transmitting daily readings of wind speed, direction, weather conditions, and latitude and longitude. during his voyage. What is special about these Start Software-built Alpha apps is that data will be stored on the device until an internet connection can be established, and the data is synchronized back to a data center on shore. These moments for digital connection will be quite limited as the whole system is powered by a small solar array and uses a satellite modem for connectivity. Alpha's needs for only periodic updating means that data can be collected easily while costly uploads, strongly limited by power availability and data bandwidth, will be managed efficiently.
For a more detailed explanation of the app project and its technical challenges, please watch the presentation on YouTube.
Contribute to the Cause and Track Andrew's Voyage
And for more information about Andrew's voyage, see our blog article. Sailor Attempts World Record Crossing The Atlantic In Smallest Boat by Amy Groden-Morrison.