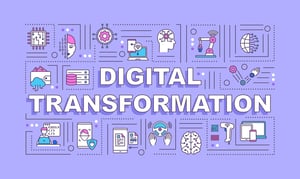 How hard is it to digitally transform an enterprise? A lot harder than you might imagine. That's the message delivered by a recent survey, the "MuleSoft Connectivity Benchmark Report 2018." MuleSoft surveyed 650 IT decision makers around the world and found how important they believe digital transformation is. The report also highlights how difficult it has been for them to digitally transform their enterprises and far they are from achieving their goals.
The report starts out warning, "To put it bluntly, those organizations that fail to digitally transform will start to lose revenue, and fast… But for many organizations, there are still huge barriers to digital transformation like integration, lack of resources, and misalignment between IT and the rest of the business."
The survey backs those statements up with its findings. Seventy four percent of those surveyed say they are now carrying out digital transformation initiatives, and 23 percent say they will do so in the next three years. They know the stakes are high: 80 percent of them say if the initiatives aren't successful, it will negatively impact their revenue this year.
But despite those high stakes, IT decision makers say they're falling short of where they need to be. Two thirds of them admit they couldn't deliver all of the projects they were asked to do last year. And things only appear to be getting worse, because they're being asked to deliver even more. On average they are being requested to deliver 27 percent more projects, even though they can't keep up with their current requests.
There's good reason they're falling behind. Respondents to the survey say their departments spend 63 percent of their time just keeping things running, with the remainder the time devoted to innovation and new development projects.
Making matters worse is their development processes aren't particularly efficient, with 93 percent of respondents admitting that "their application process could be more efficient." So it should come as no surprise that more than 75 percent of them can't deliver the apps that business users request.
The report's conclusion sums up IT decision makers' conundrum this way: "At a time when budgets and resources remain tight, it is clear that the old approach of IT trying to deliver all the projects itself won't work for the fast pace of change. IT decision makers are telling us that their workloads are increasing, their budgets and resources are only going up slightly, and the pressure is on to complete the digital transformation initiatives that they are now tasked with or else the consequences could be severe."
How Can Enterprises Speed Up Digital Transformation?
As I've pointed out before, mobile technology leads the way to digital transformation. That was particularly made clear at the 2018 Digital Transformation Online Summit titled, "Enterprise Mobility As the Face Of Digital Transformation."

The Alpha TransForm low-code app development environment is ideal for accelerating and scaling digital transformation. Alpha TransForm helps business users craft online or offline mobile apps in minutes that utilize the latest mobile features (camera, GPS, etc.) for fast, accurate data capture. Alpha TransForm apps are reliable because they work offline, even in remote field locations where a wifi or cell signal is not available. And with the power of an advanced low-code development platform behind it, Alpha Transform gives business users and IT developers the confidence that their apps will never hit limits, no matter how simple or complex they need to be. Learn more about Alpha TransForm and try it free for 30 days.