Learn how to combat the construction labor shortage and keep their businesses running smoothly.
What's the biggest problem facing the construction industry? It's not a drooping stock market, potential recession or an ongoing trade war, at least according to the industry itself. Instead, it's a potentially catastrophic labor shortage. That, according to just-released survey of construction executives from the Associated General Contractors of America (AGCA) and Sage Construction and Real Estate.
The survey found that although 79 percent of construction firms plan to expand their headcount in 2019, 78 percent of them can't fill important positions. The labor shortage was the top concern cited by construction executives.
The construction labor shortage was the top concern cited by construction executives.
The survey found that although 79% of construction firms plan to expand their headcount in 2019, 78% of them can't fill important positions.
---
AGCA Chief Executive Officer Stephen E. Sandherr warned, "Even as they are optimistic about growing demand, contractors are concerned about finding qualified workers to execute projects."
To hire qualified workers for construction jobs, construction firms are increasing their pay — almost six in 10 respondents to the survey increased base-pay rates, and 29 percent offered incentives and/or bonuses.
But, raising pay isn't the only option. The industry is rife with inefficiency. Raising productivity will help the industry do more with less manpower. How inefficient is it? Consider just these few statistics. A survey from PlanGrid and FMI found that more than 35 percent of the time of construction professionals (more than 14 hours per week) is spent on non-productive activities including looking for project information, and dealing with mistakes and rework.
Another survey, by the Mechanical Contractors Association of America(MCAA) found that problems with construction logistics have a 50 percent or more impact on productivity. And, a U.S. Chamber of Commerce Commercial Construction Index survey found that a bare 11 percent of contractors say worksites are very efficient.
Construction industry players realize there is a productivity problem and a labor shortage for skilled workers. Investing in the right mobile app development technology to solve it. The AGCA survey found that 42 percent of respondents will increase their investments in IT in 2019. The survey didn't delve into where those IT investments will be made. But mobile technology should be top of the list because it can dramatically increase productivity.
Labor Help for Construction Companies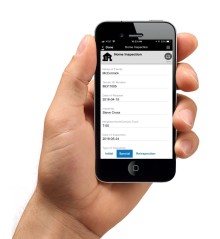 Alpha TransForm can help construction companies increase productivity and attract skilled labor in multiple ways. By tying construction sites directly to back office operations, it can improve logistics, make sure that construction documents are always within reach, and cut down on mistakes and rework. It can streamline inspections and dramatically improve data capture.
And, it can leverage mobile technology to attract craft workers because, typically, the savviest and most profitable construction companies are the ones that innovate and use the latest technology. Younger workers are also attracted to companies making the best use of technology, such as modern construction apps..
For a practical example of how Alpha TransForm can help, read how Building Engineering Company increased inspection throughput, improved data accuracy and made field data available to the company's systems immediately.
You can try Alpha TransForm yourself, with free access to a pre-built building inspection app you can customize for own company.
For further reading visit: Industrial Safety Apps - The Future Of Worker Safety
Keep your construction workers safer with our Workplace Wellness app and Toolbox Talk app.
---
Alpha can help you meet your construction needs. We offer pre-built punch list, non-conformance and home inspection apps or can build the app you need. Learn about Alpha Software Construction Apps.