Helpful mobile apps for construction workers are a Toolbox Talk App, Punch List App, Home Inspection App, and an Equipment Inspection App. Gain free access to mobile app templates for each.
These days, going paperless is key to streamlining site projects, improving quality, and closing jobs faster. But to make use of those technologies, you need great hands-on tools and apps.
Innovative Productivity Tools for Construction Teams
We've identified 4 construction apps that will make your data collection faster and more accurate. We've included links where you can sign up for a free trial of Alpha TransForm and access these apps for free. They'll help you streamline inspections and make your workers more productive.

We've got four free ones that we've built, and that our construction clients love. Of course, nothing compares to having your own custom-built application, catered explicitly to your existing systems, databases, and team needs. That's where Alpha Software comes in.
Productivity Tool # 1: Toolbox Talk App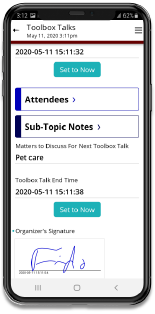 Construction firms and general contractors must work hard to promote, enforce and report safety issues. Toolbox Talks are informal group discussions that focus on safety topics related to the specific job being performed. Regularly held toolbox talks allow construction supervisors and foremen to keep safety issues front and center across construction sites. Toolbox talk meetings raise awareness of OSHA regulations, construction company policies, and job site hazards.
The Bureau of Labor Statistics reports that there were more than 4,800 deaths and 2.9 million injuries on the job. Taking these safety discussions digital can help decrease those numbers and ensure safe construction sites and construction practices.
This free toolbox talk safety app template helps safety programs organize and document toolbox talk meeting notes in a digital format. This productivity app collections construction project notes, photos, attendance or digital sign-in sheets, meeting time and location, and more. The app encourages
a safety culture by collecting and sharing hazard information, documenting safety checks, and encouraging job site health.
Download the free Toolbox Talk App.
Productivity Tool # 2 - Punch List App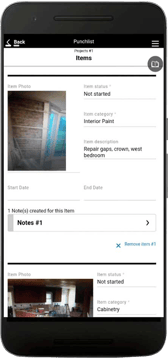 Project managers create a punch list to guide them through a list of key items on a construction project that are required in the contract. An inspector reviews completed work, identifies any unreasonable flaws on the job, and records issues on the punch list.
Punch lists provide a method for general contractors and owners to easily understand what needs to be completed and by whom.
This punch list app digitizes the traditional paper inspection process. The app can record images, record digitally whether items are complete or failed inspection, record digital signatures, and more.
By collecting data in real-time and ensuring work is done properly, contractors and their team members can finish work and collect final payments faster. The punch list record can also be sent to a distribution list, uploaded to a company database, or shared digitally with owners, managers, or architects.
Download the free Punch List App.
Productivity Tool # 3 - Home Inspection App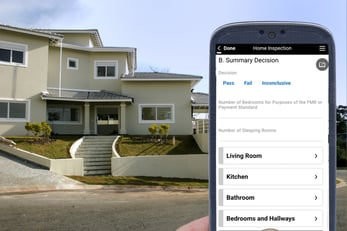 Building inspections are critical, whether you're inspecting newer construction projects or older buildings. Recording comprehensive, detailed inspection data is important for meeting construction and safety regulations, passing certification and speeding the home buying or rental process.
This home inspection app enables home inspectors to rapidly capture critical building inspection data on any smartphone. The app is optimized for one-handed data capture, with customized inspection checklists, custom data-entry options and built-in building inspection reports.
The screen is designed to make collecting images, notes, audio, and other materials faster for general contractors, project owners, architects, or designers. Automatic date and time stamping is carried out. Users can initiate a relevant workflow or submit the report directly into the company's system(s) of record when it has been finished and digitally.
Download the free Home Inspection App.
Productivity Tool #4 - Equipment Inspection App

Having equipment run properly is vital to the running of any job site floor. But knowing that is one thing, and doing it is another. Inspectors often work in harsh and demanding circumstances, and it can be tough to record all their findings.
Our free equipment inspection app makes evaluating and inspecting construction equipment fast and easy for inspectors. Optimized for one-handed data entry, the app can look up equipment model information, capture torque or other measurements, and perform calculations with a click. The app also automatically records location and time data and offers one-tap pass/fall buttons. Once the inspection is complete, inspectors can sign off on the form, and submit it directly into the company's database or email distribution list -- all from their smartphone.
Download the free equipment inspection app.
Build Your Own Construction Productivity Tools in Minutes, Without Limits
Alpha Software helps construction companies build inspection apps, equipment maintenance apps, non-conformance apps, and safety apps to capture and deliver critical production floor and warehouse data anytime, anywhere. With Alpha TransForm, you can easily build custom IOS and Android business apps that make construction workers more productive. Construction teams can customize pre-built apps, or build construction apps from scratch. Drive productivity and streamline business activities with custom business apps that connect to your existing systems, processes, and data investments.

For power users, Alpha TransForm includes an optional coding capability to meet more complex workflow, integration, and security requirements.
Learn how to get your free trial of Alpha TransForm and get full access to these construction productivity tools now.