Anyone who has worked with Alpha Software knows that we're dog lovers. Today's blog highlights two topics we care about: dogs and construction.
An international bridge project between the U.S. and Canada is using innovative technology and some furry friends to keep interruptions to a minimum and maintain safety.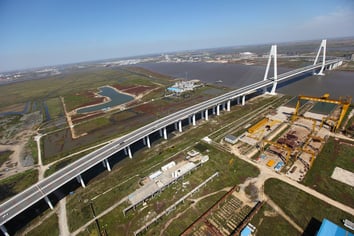 The Gordie Howe International Bridge project establishes a cable-stayed bridge to span the Detroit River. The bridge will connect Detroit, Michigan and Windsor, Ontario by linking Michigan's Interstate 75 with Ontario's Highway 401. This bridge replaces the Ambassador Bridge, which opened in 1929 and is the busiest crossing on the Canada–United States border, with nearly 25% of U.S.–Canada border crossings by trucks using the Ambassador bridge. According to the CBC, "Almost $500 million US in trade and an average of 10,000 commercial vehicles pass daily over the Ambassador Bridge."
Construction on the Gordie Howe International Bridge began in July 2014 and is expected to complete in 2025. This construction project has won numerous awards for its innovation, design and project management. The bridge is named after Canadian professional ice hockey player Gordie Howe, who played the bulk of his career for the Detroit Red Wings.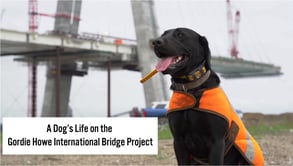 One thing that makes this project so unique is its use of dogs and falcons to keep the project on track and help keep workers safe. Both play an important role in protecting wildlife on site.
The project includes multiple falcons and a team of 4-5 dogs that work on the bridge site. Every day 2 dogs are used, with one dog on day shift and one dog on night shift. With dogs and falcons patrolling the site, they ensure that birds do not next on the project or in the surrounding ground area, and they keep other wildlife away from the site. This effort ensures that the project is not delayed because workers have to relocate bird nests or deal with other animals on the site.
Courtesy of the Construction Links Network, this video tells the story of 2-year old, black lab "D" and how she's working with the falconry team on the Goldie Howe International Bridge project to keep birds and wildlife off the construction site.
We commend the project team on their use of man's best friend to help keep wildlife safer and keep this $5.7 billion, 1.5-mile cable-stayed span on track for its opening.
Learn how Alpha Software's work with construction companies and how we're helping contractors and project managers streamline their projects, keep worksites site and speed approvals.