Legal software provider and long-time Alpha Anywhere developers at Start Software are busy integrating Artificial Intelligence (AI) into their apps.

Working with AI specialists implementai.io, Start Software director Robin Bennett and developer Tom are working to extend Alpha Tracker® and the Legacy platform from CTT Group (see https://ctt-group.co.uk/legacy-software/) to incorporate a number of AI-powered features.

Robin is working with AI thought-leaders Piers Linney and Aalok Shukla who are focusing their ImplementAI business on helping organizations worldwide integrate artificial intelligence into their day-to-day processes for maximum revenue growth. Piers is famous in the UK for being a TV "Shark Tank" investor (the program is known as "Dragons' Den" and shows on the BBC).
Robin said of the project "We are using Alpha Anywhere's extensive API capabilities to link into ChatGPT, Bard and other AI platforms. AI is sure to become 'business-as-usual' and it's vital that software developers take advantage of opportunities now before competitors take the lead. AI is already amazing but, as Piers Linney says, this is the worst that AI will be and that's an incredible thought. Get on the AI bandwagon now!".

Recently, Alpha Software Vice President Dave McCormick featured Robin Bennett and his innovative work on the weekly Alpha Software webinar. Click below to view the webinar and watch Robin show viewers how to integrate ChatGPT AI into an Alpha Anywhere project.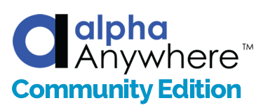 This just begins to show what's possible when you combine AI and the flexible Alpha Anywhere development environment. You can build these apps for free with an Alpha Anywhere Community Edition development license. Get your free development license.
If you would like to know more about Alpha Anywhere's API capabilities, contact Alpha Anywhere at guide@alphasoftware.com.
If you need help integrating AI into your Alpha Anywhere apps, contact Robin Bennett at Start Software (robin.bennett@start-software.com) or the Alpha Software Professional Services team: https://www.alphasoftware.com/professional-services-request