Technologies can help reinvent your supply chain to quickly respond to market shifts.
A recent Harvard Business Review article discusses how companies can begin to build a supply chain that responds to real-time inputs and evolves to meet shifting demands. Jonathan Colehower, Global Supply Chain Strategy Practice Lead at UST (a global digital transformation solutions provider), lists 9 ways manufacturers can tackle the issue in his article, "Using Technology to Improve Supply Chain Resilience."
Effective supply chain management requires solid data, but accuracy and timeliness are critical, especially in today's global environment. Supply chain managers now need to move beyond their own organization and static reports, to dynamic, connected systems between partners to have a complete picture that allows them to assess and respond to supply chain disruptions. Colehower explains in his article that organizations now require a more modern, more responsive supply chain platform. He offers several suggestions for moving in this direction.
The Benefits of SaaS Software in Supply Chain Management
Colehower suggests executives implement a SaaS system. He explains, that SaaS software "extends reach and visibility by allowing every stage (e.g., raw materials, production, finishing, warehousing, and distribution) to share information, actions, and insights."
SaaS solutions can tie together multiple systems, data sources and deliver information on any device in real time. All partners can potentially have similar view of information so they can respond appropriately as challenges, or opportunities, arise.
An Open and Flexible Cloud Architecture Can Help Supply Chain Management
The right cloud architecture can tie together systems that give decision-makers clarity into demand and supply data. Colehower explains how composable architecture enables complex systems to be "built by combining smaller, modular components that can be easily assembled, interconnected, and reused." He explains how cloud technologies give manufacturers the ability to deliver information consistently and in real-time across desktops, wearables, mobile devices, and kioks.
Newer Technologies Can Make Your Supply Chain Resilient
Colehower goes on to discuss the role of technology in reinventing supply chains. He discusses the importance of cybersecurity, the potential of AI/ML for demand forecasting, and the opportunities that exist when companies use technology to collaborate with customers, suppliers, and partners. He also highlights how creating more supply chain visibility can have a significant impact:
"Traditionally, visibility across the supply chain has been limited to "one-up" and "one-down," meaning that managers can generally only "see" what their tier one suppliers and immediate customers are doing. However, in a multi-echelon supply chain, operators won't feel the impact of disruptions that occur three or four tiers back until it's too late to adjust. Today, modern IT platforms enable trading partners to gather in a safe, permission-based exchange where they can share information, improving visibility and building resilience across the entire supply chain."
Making It All Possible with Digital Data
Manufacturing organizations can utilize data to predict customer demand, optimize inventory planning, and predict market disruptions. However, the quality of your optimization models are only as good as your data.
Paper forms and ad-hoc processes hamper manufacturers from accurately understanding their current situation in a timely way and communicating clearly to their customers, suppliers, and partners.
The key to better, faster flow of goods and services is to digitize your data so it's trusted and powers better decision-making. Digital data collection can capture accurate data automatically, whether its from sensors or automatic, such as time/date stamping, GPS location or bar code scanning. When information is digital and in the cloud, it is available to anyone who has access -- in company headquarters or on the sea docks -- instantly.
Sensors can dramatically improve the data your'e getting from your manufacturing machines. Alpha Software helps ensure the data collected by humans is highly accurate, comprehensive, timely and actionable.
Reinvent Your Supply Chain with Digital Data and Respond to Change Faster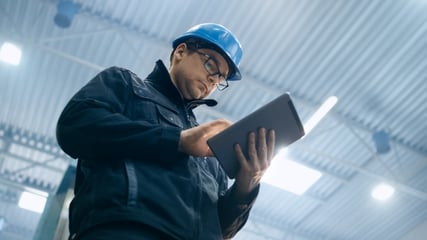 Alpha Software solutions digitize data collection for better supply chain management and response. Our solutions help manufacturing teams:
optimize inventory planning
track demand fluctuations in real-time
predict disruptions.
We'll digitize and leverage data in a way that saves money and allows you to better manage your supply chain.
Improve Your Data, Reduce Your Risk