Data is pivotal for gauging performance and spotting growth areas in manufacturing. Despite technological advancements, many manufacturers continue practicing manual data collection. Automated technology to collect, monitor, and analyze data is now replacing manual data collection. This article examines what is stalling manufacturers who haven't digitized their data yet.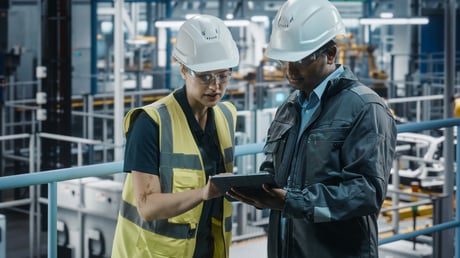 Manual Compared with Automated Data Collection
Over-Reliance on Manual Data Collection
Manual data collection uses clipboards, pens, whiteboards, stopwatches, and timers to assess production. This assessment includes downtime, scrap rates, labor, and motion.
Excel spreadsheets and standalone applications have supplanted traditional methods as technology has advanced, offering improved data management and analysis. Manufacturers' reliance on manual recording led to a higher potential for human errors and bias, causing delays, inaccuracies, and less actionable data.
Automated Data Collection and Digital Transformation
Automated data collection is an essential part of digital transformation. Newer methods include automatic data capture and real-time data collection from equipment via devices and sensors. Many manufacturers began implementing automated data collection elements into their machinery over time.
Despite improving data collection, it remained fragmented. Legacy systems required manual data entry and used software that lacked integration with real-time data acquisition.
Manufacturers now use machine learning platforms and automated data entry systems to capture standardized production data autonomously. These solutions provide valuable information for informed decision-making, increased efficiency, and streamlined manufacturing processes.
The Costs of Manual Machine Data Collection
Although manual data gathering seems suitable initially, it proves costly for manufacturers. Manual approaches are wasteful, error-prone, time-consuming, and challenging to obtain reliable real-time insights. This lag in access to information prevents timely decisions that could improve production process efficiency.
Collection is time-consuming and diverts resources from the production floor to non-value-added processes like sorting, organizing, and delivering data. This impacts existing production processes and continuous improvement opportunities.
Manually processed data becomes increasingly expensive as firms grow. This list details the cumulative effects.
The Expense of Manual Production Processes
Manual Data Collection Causes even more Issues
Using paper and spreadsheets to gather data manually introduces various problems for performance measurement. The process frequently needs to be updated for accuracy.
Limits Productivity
Each manual entry on paper hinders productivity. Variable recording by operators can severely slow down production. Furthermore, complex data leaves room for human error.
Incorrectly Batched Metrics
Operators may turn to batch recording to optimize the process, lowering data accuracy.
Unhappy Employees
Employees may become frustrated if manual recording takes time away from critical machine monitoring and other responsibilities.
Information that has Expired
Updating manual data frequently becomes necessary, which hampers its relevance and usefulness.
Ineffective Decision-Making
These challenges lead to poor decision-making, which undermines operational performance in the short and long term.
Lack of Trends and Unstructured Data
Manually acquired data is frequently unstructured. This type of data makes anything except high-level analysis difficult. While it suffices for specific tasks, a more comprehensive approach is essential for a fine-tuned understanding of work floor dynamics.
There is no means to pinpoint the core causes of problems without patterns. This is especially crucial in lean production, where minor issues can quickly escalate into significant problems if not addressed promptly. This will make determining root causes challenging.
Manual Strategies Give Way to Automated Data Capture Solutions
Manually collected data issues contravene current production concepts. OEMs are including automatic data collecting in new equipment. Integrating legacy systems enables thorough production monitoring. Manufacturers will transition from manual to digital data collection for increased efficiency and cost savings.
How Mobile Devices Boost Manufacturing Competitiveness

Mobile devices are vital in enhancing manufacturing competitiveness while speeding up operations.
Reduce Errors and Enhance Real-Time: Data Sharing
Cameras and barcode scanners streamline quality control and inventory management. They facilitate fast data collection at any production stage, minimizing errors and improving real-time organization-wide data sharing.
Additive Manufacturing and Product Life Cycle
Mobile apps support quality checks in additive manufacturing and provide valuable insights throughout a product's life cycle.
Enhanced Data Capture for Accurate Equipment Diagnosis
Workers use mobile devices to diagnose equipment capturing and sharing data. This proactive approach significantly improves product quality and overall organizational productivity. The data also feeds into analytics databases for predicting optimal future maintenance.
Empowers Employees and Management
Mobile technology empowers workers and managers to access critical information anywhere in the plant. This accessibility fosters real-time data sharing and fast decision-making, which is essential to improve efficiency.
Enhancing Data Collection with No-Code Platforms
No-code platforms like Alpha TransForm are revolutionizing how manufacturers collect and manage data while reducing paper-based processes. They also reduce labor costs and save time and money while minimizing data entry errors.
Here's how they're making a significant impact:
Intuitive Interface

: No-code platforms provide user-friendly interfaces that require no coding knowledge, allowing non-technical users to create data collection forms and workflows.

Pre-built Components

: These platforms have a library of pre-built components and templates that speed up the development process, so you can quickly assemble and deploy data collection solutions without starting from zero.

Streamlined Integration

: No-code platforms often seamlessly integrate with legacy systems, databases, and applications, ensuring that collected data flows effortlessly through your organization, eliminating silos and enhancing overall productivity.

Reduced Dependency on IT

: These platforms empower non-technical employees to take control of data collection initiatives. They can create, modify, and deploy applications without relying heavily on IT resources, reducing bottlenecks and increasing agility.

Flexibility and Scalability

: No-code platforms offer flexibility to adapt to changing data collection requirements. As your needs evolve, you can easily adjust your applications. Also, these platforms will scale alongside your business growth.

Improved User Experience

: With user-friendly interfaces and intuitive design, no-code applications provide a smoother and more enjoyable experience for data collectors and end-users.
How to TransForm Your Manufacturing Operations
No-code platforms like Alpha TransForm empower non-technical employees to build applications that collect data accurately and efficiently. TransForm enables your teams to digitize manufacturing processes quickly and easily - which is why Alpha TransForm is the choice for manufacturers of all sizes.
Alpha TransForm's Quality Manufacturing Solution designs custom-made apps to address actual manufacturing challenges. It accelerates data collection via mobile devices and enhances insights with a robust analytics engine and dashboards.
We optimize our solutions for one-handed data entry on the shop floor. These apps utilize the latest mobile features (camera, GPS, etc.) for fast, accurate data collection. The best part: Alpha TransForm eliminates back-end data entry because apps can tie into your company systems and workflows.
Download Our Alpha TransForm Demo Today
Experience our complimentary Alpha TransForm demo and become a valued member of the Alpha Software family alongside renowned companies like Boeing, Honda, Igloo, and more.
Going paperless cuts printing expenses while reducing office space and storage needs. It streamlines work hours as employees spend less time on data entry. You'll save on printers, toners, and repairs while your team gains efficiency by avoiding the hassle of searching for or replacing lost forms.
Alpha TransForm Features
:
●

Effortlessly digitize data collection methods.


●

E

nsure productivity regardless of connectivity with reliable apps
●

Gain real-time insights with data analytics and custom dashboards.
● Utilize f

lexible and robust tools for quality standards, planning, and processes.
●

Set up automated workflows, including emails, SMS, or reports.
Revamp Your Manufacturing Data Handling and Analysis
Alpha TransForm will help you build tailored solutions that:
●
Tackle challenges swiftly, with no coding or IT wait times required.
●

Capture diverse data forms - from images to audio, bar codes, and signatures.
●

Guarantee accuracy, comprehensiveness, and efficiency while saving employee time.
●

Leverage a powerful built-in analytics engine for dynamic dashboards and reports.
●

Offer exceptional performance, whether online or offline

.
Talk to us

today to learn how we can make your data collection, faster, more accurate, and actionable.