Alpha Software is delighted to announce its partnership with Procore Technologies to deliver intelligent mobile forms for better, faster inspections.
Procore Technologies, Inc. is a leading provider of cloud-based applications for the construction industry. Procore connects people, applications, and devices through a unified platform to help construction firms manage risk and build quality projects, safely, on time, and within budget.
Procore Technologies has a diversified business model with products for Construction Project Management, Construction Financials, and Quality & Safety Software. Procore has more than 2 million users managing billions of dollars in annual construction volume with over 90% customer satisfaction. With global headquartered in California and EMEA Headquarters in London, Procore has over 2000 employees across the globe.
As a trusted Procore Partner, Alpha Software will be supporting construction customers to streamline inspections. Alpha Software is now featured on the Procore Marketplace as a key vendor for inspections:
https://marketplace.procore.com/apps/alpha-transform-intelligent-mobile-forms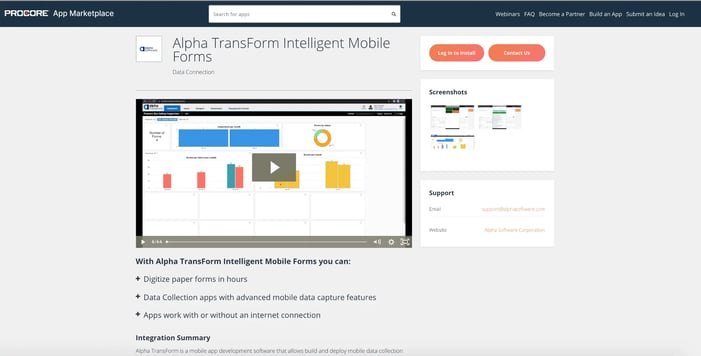 The Combined Power of Procore and Alpha TransForm
Andrea Brown of Procore recently interviewed Alpha Software Solutions Consultant Nikos Kazantzis about the value of Procore and Alpha TransForm intelligent electronic forms apps. Kazantzis explained that by digitizing paper forms, construction companies can speed inspections conducted and approved by subcontractors or multiple third parties, or forms with weighted scoring sections.
Procore customers will be excited to use Alpha TransForm with these types of processes, as well as bar code scanning at sites without internet connection and more.
Kazantzis also discussed how the digitization of paper forms accelerates data insights for construction companies because they can use powerful Alpha TransForm dashboards and analytics to understand the data they've collected better. Watch and share the interview here.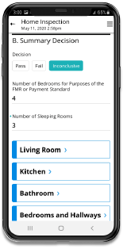 Digitize Inspection Forms with Procore Mobile Forms
Using integrated Alpha TransForm electronic forms software, Procore customers can:
Digitize their mobile inspection apps in days or hours

Increased worker safety, productivity, and compliance

Speed site approvals and get to invoicing faster

Streamlined customer and specialty contractor communication
Build Intelligent Mobile Construction Forms with Alpha TransForm
Offline operation and storage of large data files (images, audio, manuals, etc.) for when you are on a job site without a WiFi or cell signal
Image capture with mark-up to carefully document inspection issues visually
Time, date and location stamping
Audio recording and speech-to-text capabilities
Complex Calculations, stopwatches and timers
Digital ink for approval signatures
Embedded business logic to power workflow and event triggers
Integration with Procore and other corporate systems of record
To schedule a call to discuss using Alpha Software with Procore Technologies, please contact sales@alphasoftware.com
To learn more about the types of construction apps you can build with Alpha Software and Procore, visit:
https://www.alphasoftware.com/procore-and-alpha-software-mobile-forms
---
To learn how Alpha Software and Alpha TransForm mobile forms are powering better construction industry inspections, read: