At Alpha Software, we understand how important it is for developers seeking high productivity to select the right standards-based development platform for their low-code mobile app development and deployment needs. The Developer2Developer Interview Series provides raw product experience insights from real-world users of Alpha Anywhere.
This week, Alpha Software released the second video in its new YouTube "Developer2Developer" Interview Series. The series is designed to give developers considering Alpha Anywhere an unbiased review of the software and the company behind it from developers using the software on a daily basis.

In the second interview, Alpha Software's Vice President of Mobile Bob Moore, interviews Alex Collier, director of AC Business Apps. Based in Perth, Australia, Collier's business helps clients digitally transform their business operations. This includes modernizing operations from Excel spreadsheets to powerful business apps that improve their business performance.
During the video, Moore and Collier share their perspectives on how they first got into development and the various languages they've used over the years. Collier explains how he first encountered Alpha Anywhere, and how he easily learned the product and has made an effort to deeply understand all its features and capabilities.
In discussing the strengths of the Alpha Anywhere platform, Collier comments, "If I was gonna build something, this is what I would build, essentially."

Collier discusses his experiences providing product feature recommendations directly to the engineering team and seeing those improvements appear in the product days later. Collier discusses a recent call about adding advanced authentication features with the engineering team and explains, "Now it only takes one or two hours and you have a working system with user authentication and more -- brilliant."
Collier gives the product praise for its unique ability to give developers productivity while remaining flexible and not boxing them in. "It's a system for massive productivity...You never get stuck"
Moore also asks Collier about his cutting-edge work with NodeJS, React, Python and Delphi. Collier discusses how he's using the tools to create native-like UI. He discusses how he uses both Windows and Mac machines for development work.
Moore also interviews Collier about app deployment using Alpha Anywhere. Collier discusses deploying to the cloud and shares how impressed he is with Alpha Cloud and the work that VP of Research & Development Kurt Rayner has put into the product.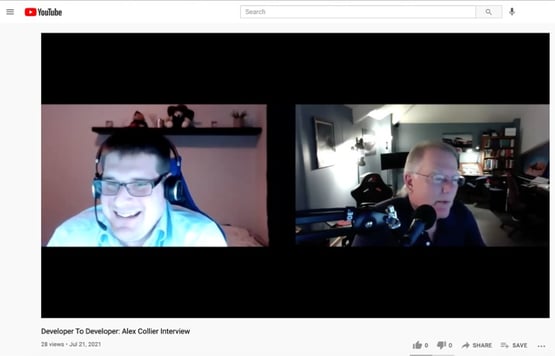 You can view the full interview below. (If you are an existing Alpha Software customer and want to be considered for an interview, please contact richard@alphasoftware.com
Key moments:
(0:00) Introduction and Alex's experiences in his early career as a Excel developer
(5:32) Bob Responds about his experiences with early internet development in the 90s
(7:19) "I found Alpha In 2002" - Bob Moore
(8:05) Alex responds about when Alpha became an important tool in his life
(9:45) Alex explains how the Alpha team is responsive to the needs of their clients
(11:45) "It's a system for massive productivity" - Alex Collier
(12:53) Bob reflects on the ability to directly communicate with Alpha Developers
(13:18) Bob queries Alex about his recent experience with Node.js
(14:45) Alex explains Node.js compatibility in Alpha
(15:35) "i use node.js is because there's a massive open source community and libraries"
(17:23) How do React, Python, and Delphi play into your development?" - Bob
(19:08) For mobile you use Android Studio and xcode. Are you developing on a mac?" - Bob
(21:44) Xcode, Android Studio, and Chrome Debugger really make life easier as a mobile developer
(22:44) "How do you deploy?" - Bob
(24:14) "Do you have any closing comments to new developers using Alpha?"
If you are an existing Alpha Software customer and want to be considered for an interview, please contact richard@alphasoftware.com.