Data is the lifeblood of business. You need valuable insights if you're going to properly target your products or services and protect your market share. Unfortunately, deciding on the best data collection method for your business can be a difficult decision. This article discusses the challenges of data collection, the current solutions and associated costs, and how to find the best method for your need.
Identifying the Best Data Collection Methods for Business
You can gather information via online surveys, face to face meetings, focus groups, qualitative research, paper forms, and other research methods.
To help choose the best one, you should first understand why you want to collect the data in the first place. The article, "Best data collection methods for improving your customer base" clearly explains the importance fo good data. The article puts the primary benefit this way: "First and foremost, if you gather data, you get to know your customers. You get all the information required to provide the best experience they need."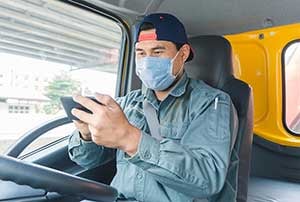 The article also notes that the data gathered can also "help with identifying which areas of your business need improvement. How? By looking at transactional data, you know which of your products are the most popular and which are not."
It adds, "Data collection methods are also helpful when it comes to identifying opportunities for expansion. If you analyze your customer data, you can gain valuable customer insights to determine your true potential." For example, launching a store in a new area, then using data to target personalized advertisements and discounts to local customers.
Other benefits, the article says, include improved personalization and targeting and better predicting future trends. That will ensure you'll better meet their needs in the future and launch the kinds of products they want.
Once you know what kinds of benefits you're looking to gain from data collection, choose from the best method. Leverage surveys, interviews, marketing analysis, original research, and monitoring in-store traffic.
What Are Mobile Forms?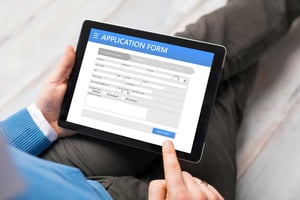 Of all data collection methods, experts say that perhaps the best is mobile forms software. You use mobile forms on smartphones and tablets, in place of traditional paper forms, to fill and submit information.
Towards Data Science, outlines the power of mobile devices for collecting data. One recent article explains:
"Mobile data collection means information can be digitally recording on the mobile device at the source of its origin, eliminating the need for data entry after the information is collected. ...It helps us save time, money, and human resources."
How Mobile Forms Make Data Collection Easier
The article notes that:
"Mobile data collection is more efficient than paper forms, and ensures data accuracy. ...Filling out mobile forms on your phone is faster and minimizes manual data entry errors. Users can select data from lists, radio buttons, checkboxes, or scanned data without having to enter information manually."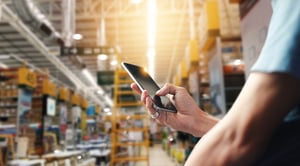 In addition, mobile forms use "automatic data validation based on data type and required fields. Data validation and less manual input help reduce errors and save a lot of time."
Mobile data collection can also track the data collection process in real-time. That's extremely useful, because you can quickly make changes to the workflow to better get the data you need." For example, adjusting the mobile form and immediately giving all team members immediate access to the same information.
"You can do an adjustment to the mobile form online in minutes, and all team members have immediate access to the same information."
The upshot of all this? If you're looking to choose the best data collection method, using mobile forms is generally the way to go. You'll increase efficiency and productivity, get cleaner data and save money.
Why Your Business Should Have a Data Collection App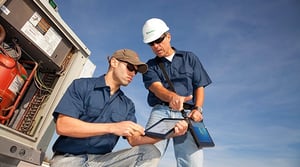 Your organization has an opportunity to improve its methods of collecting data for the business.
There will always be a need for face to face polling, interviews and focus groups in business. But when it comes to paper data collection, data collection shows that there must be a better way. Paper processes lead to mistakes, high costs and delays.
Mobile apps can collect data for quantitative research, marketing campaigns, sales contracts and field inspections. Unlike paper, mobile data collection apps can capture enormous amounts of data.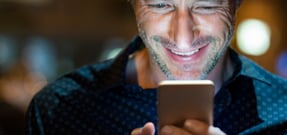 Types of data included can be images, GPS locations, audio recordings, bar code scans, QR codes, digital signatures and more. In addition, the process of gathering this data is faster than any other manual method possible.
Research by Repsly estimates that storage space and filing cabinets required for forms can be $2,165 a year. It also estimates 11 hours of field time and 6 hours of admin time is wasted managing paper forms each week.
By improving the speed and accuracy of your data collection techniques across your business, your organization can realize incredible efficiencies. One home inspection company moved from paper to mobile data collection
Best Data Collection Method for Business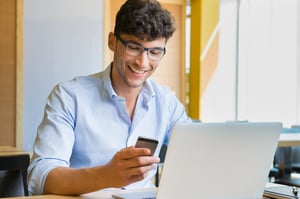 Turning paper data collection into mobile apps is an important decision for your company. At the heart of every business app is its data integration and data management, and secure data storage is essential. Alpha Software gives you confidence that the data you collect is handled efficiently and securely. As a result, Alpha Software software can turn smartphones and tablets into an effective method of data collection for every business.
Alpha Software products offer a cost effective method of primary data collection for any type of business. Mobile apps can collect data for quantitative research, marketing campaigns, sales contracts, and field inspections. Both experienced developers in IT or business users close to processes can create data collection apps using Alpha Software products.
Start building mobile data collection apps for free with Alpha Software. Download the free app builder today.