When people think of low-code platforms, they often think they're only good for building simple apps. They imagine that citizen developers without programming expertise won't be able to use them to build enterprise-strength apps. They may feel that developers and IT pros turn to low-code only to create straight-ahead apps, like forms.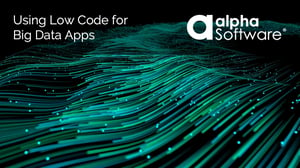 But that's far from being true. In fact, low-code platforms can be used to build extremely powerful full-blown applications that can take advantage of big data.
So concludes the article, "6 steps for using low-code platforms to create big data apps." The article goes beyond breaking the myth that low-code can't build full-strength applications. It offers great advice on how to use low-code to create apps that can harvest all the power of big data.
The article starts by noting that low-code platforms may have some issues with dealing with big data. It points out "low code is designed to work with transactional data in fixed record lengths." That seems to rule out working with big data. But the article goes on to say, "There are ways to use low code with big data if there is enough business value to warrant developing the methodology to facilitate it…Since low-code app development must work with fixed records containing clearly delineated data fields within them, the major task is formatting unstructured big data into fixed records."
The first step in doing that, says the article, is to define your business requirements. Determine the business problems the app will solve, and the types of big data that will be used to solve them.
Next, it says, "Use AI to weed out unnecessary data." You need to do that because, "you don't want to bring in any more big data than is necessary, as it creates needless overhead and bogs down processing." So ask your enterprise's data scientists to create a data filter to weed out the unnecessary data and allow in only what's needed.
Next, build the APIs required to access the filtered data. After that, IT should examine the data needed for the app, and then "parse the unstructured data into data field chunks, and then format the data into fixed fields within a fixed record."
Once that's done, IT should "Use an ETL (extract-transform-load) tool to normalize and move big data into other systems. That must be done in order to match up with the data records in other systems that need to be accessed.
Finally, build the low-code app, and test "if it picks up the right data, processes properly, and returns the results that the business expects." Keep refining it until it's right.
What's the Best Low-Code Platform for Building Big Data Apps?
Alpha Software products ideal for those looking for building data-driven apps.
Alpha TransForm is a high-speed mobile forms builder that business users craft online or offline mobile apps for fast, accurate data collection.
Alpha Anywhere has the unique ability to rapidly create data-driven apps that easily access and integrate with any database or web service and can exploit built-in role-based security or robust offline functionality. Build Apps for Free with Alpha Anywhere Community Edition.