Learn how Supply Chain 4.0 boosts your organization's speed, flexibility, precision, and efficiency.
Supply Chain 4.0 is advancing. It improves data accuracy and speeds up inspections. It boosts performance and productivity. Change has been more rapid for some more than others.
Take a walk around a modern factory floor, and you may find advanced robotics involved in production. There may also be advanced analytics, big data, the Internet of Things (IoT) sensors, and Machine Learning solutions that may be less obvious to the naked eye.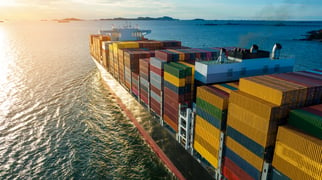 Supply Chain 4.0 Defined Vs. the Traditional Supply Chain:
Digital Supply Chain Management
Supply Chain 4.0 uses high-tech tools like AI and IoT to make supply chain networks work better together. It helps businesses be faster, more flexible, and efficient in managing their supplies.
Traditional Supply Chain Management
The traditional supply chain involves getting materials, making products, and delivering them. It usually follows set plans and might not adjust quickly to changes in what people want.
Supply Chain 4.0, the new Dawn
In 30 years, logistic processes have transformed. It shifted from ensuring supply line efficiency to independent supply chain management. A Chief Supply Chain Officer now oversees this function, a title unheard of 30 years ago.
Many companies have integrated analytical demand planning and S&OP while often outsourcing operational logistics to third-party LSPs. The supply chain function integrates operations from customers to suppliers.
Influential Supply Chain Trends
Industry 4.0 is shaping supply chains with modern technologies and is causing manufacturers to reassess traditional methods. Influential trends and evolving customer expectations are driving these changes. For manufacturers, the choice is between implementing digital solutions or losing to competition.
Core trends, including rural growth, wealth shifts, carbon reduction pressures, and traffic regulations, are significant in shaping supply chain management. Demographic changes also affect labor availability and ergonomics.
With online shopping increasing, customers expect higher service standards. The increased demands of individualization and customization are leading to more variety in product options. Additionally, online accessibility intensifies competition within the supply chain. Supply chains must prioritize speed and precision to succeed in this evolving landscape.
The Vision of a Better Supply Chain Future
In the future, digitizing the supply chain will help companies meet customer needs, tackle supply challenges, and improve efficiency, which leads to Supply Chain 4.0, which means:
Faster product distribution

will reduce delivery times to just a few hours. Advanced forecasting, including predictive analytics and machine data, provides accurate customer demand weekly and even daily forecasts. "Predictive shipping" will become more common, where products are shipped before the customer places an order.

Increased flexibility through real-time planning

, allowing quicker adaptation to changing demand or supply situations. Planning becomes continuous and dynamic, minimizing frozen periods and cycles.

New business models

, like Supply Chain as a Service, offer more agile supply chain management. Companies can buy supply chain services based on usage instead of maintaining in-house resources.

"Uberization" of transport

, with crowd-sourced, flexible capacity, leading to a more adaptable distribution network.

More customized products

will meet increasing customer demands for individualization while micro-segmentation and mass customization become standard practices.

There will be an introduction of drone delivery

for efficient last-mile service.

There will be improved accuracy with real-time transparency

across the supply chain. This shared information ensures that stakeholder decision-making uses the same facts.

Automation of physical tasks and planning

boosts supply chain efficiency. Robots handle functions from receiving to shipping, and autonomous trucks optimize product transport.

There will be an optimization of truck use

and sharing capacities between companies for increased transport agility.

Use transparency and dynamic planning

to shape demand and create an optimal workload in the supply chain.
Barriers to Realizing Supply Chain 4.0's Potential.
Digital waste limits Supply Chain 4.0's potential, so finding and fixing flaws is crucial for reaping technology's full benefits. There are three main inefficiencies:
Data Handling
:
Often, data is managed manually or updated infrequently, causing problems. For instance, supplier lead time data is entered once and left unchanged for years. Another example is the infrequent use of advanced shipping notifications, which could improve inbound processes. However, these warnings often go unnoticed, leading to lower reported supplier service levels and potential operational issues in modern systems.
Integrated Planning:
While many companies have begun implementing integrated planning processes, they often work in silos. As a result, they don't leverage all available information to achieve optimal planning outcomes.
Planners frequently manually override automatically generated planning or statistical forecast data. This practice often prevents forecasting accuracy, particularly for medium to high-velocity items.
Achieving optimization in integrated processes requires alignment in organizational structure, governance, processes, and incentives within and between supply chain partners.
Process Execution:
Warehousing, assembly line replenishment, and transport management teams over-rely on intuition instead of using available data to make decisions.
For instance, warehouses often work in batches, missing real-time allocation of new orders and dynamic routing. Additionally, the potential of innovative technologies like wearables (such as Google Glass or customized mobile applications) or exoskeletons often goes untapped.
It's crucial to address these sources of digital waste to actualize the potential of Supply Chain 4.0. Doing this will make supply chains more agile, efficient, and better equipped to meet customer needs.
---
How Mobile Applications Can Solve These Problems
This latest news underscores persistent supply chain challenges. Ships remain anchored offshore, awaiting unloading, while a labor shortage hampers the delivery of goods.
Shoppers face frustrations due to limited product availability. With the holiday season approaching, companies must optimize logistics data and equip their frontline workforce with advanced tools.
In this context, adopting no-code and low-code software solutions is gaining traction. These technologies offer a route to Supply Chain 4.0, promising a transformative impact on supply chain operations. They allow companies to collect better, more comprehensive data on mobile devices versus traditional data. This allows companies to have timely insight into their data and share it digitally with employees in any part of the organization or even partners in the supply chain.
They are quickly becoming essential assets for organizations looking to leverage the potential of Supply Chain 4.0. Learn more and get a free license to digitize your supply chain data.
---
Streamlining Supply Chain with Supply Chain 4.0
The Evolution of Supply Chain Management
Supply Chain 4.0 represents a change in thinking in supply chain management. This revolutionary approach leverages advanced technologies and data-driven strategies to optimize various parts of the supply chain. From planning and logistics to performance management and collaboration, Supply Chain 4.0 promises to drive operational efficiency to unprecedented levels.
The McKinsey Digital Supply Chain Compass -
Using Supply Chain 4.0 for Better Operations
To navigate the complexities of Supply Chain 4.0, McKinsey has introduced the Digital Supply Chain Compass. This tool works as a structured guide, categorizing key improvement strategies under Supply Chain 4.0 and aligning them with six critical value drivers. This tool groups the main ways to improve under Supply Chain 4.0, matching with six critical value drivers, leading to crucial improvements in service, cost savings, better resource use, and added flexibility in operations.
This compass can help businesses to strategically implement Supply Chain 4.0 initiatives tailored to their specific needs and goals.
Enhancing Service Quality
One of the primary benefits of adopting Supply Chain 4.0 is a substantial improvement in service quality. Predictive analytics and real-time replanning can help businesses enhance their ability to meet customer demands promptly and accurately, leading to better customer experience, increased loyalty, and a competitive edge.
Maximizing Cost Efficiency
Cost efficiency is a cornerstone of Supply Chain 4.0. Businesses can achieve up to 30 percent reduction in operational costs by automating planning tasks, optimizing transportation and warehousing, and leveraging dynamic routing. Additionally, automation and productivity advancement can contribute to reducing expenses.
Optimizing Capital Utilization
Effective capital utilization is a core driver of success in Supply Chain 4.0. Through streamlined inventory management and eliminating unnecessary safety stocks, businesses can significantly reduce their capital bundled in inventory. This newfound agility in capital allocation allows for more strategic investments and improved financial performance.
Unleashing Operational Agility
Operational agility is a hallmark of Supply Chain 4.0. With real-time data, dynamic planning, and collaborative platforms, businesses can quickly adapt to changing market conditions and unforeseen disruptions. This agility ensures continuity in operations while positioning businesses to seize emerging opportunities.
Revolutionizing Inventory Management
Inventory management undergoes a profound transformation in Supply Chain 4.0. Advanced planning algorithms and reduced replenishment lead times make safety stocks obsolete. The result is a potential 75 percent reduction in required inventory, freeing up working capital and strengthening financial resilience.
Embracing 3-D Printing and Additive Manufacturing
The rise of 3-D printing and additive manufacturing is a meaningful change in Supply Chain 4.0. These technologies enable localized spare parts and components manufacturing -cutting lead times and minimizing reliance on extensive inventories. The ongoing progress in 3-D printing technology will significantly impact the evolution of supply chain operations.
The Future of Supply Chain Management
Supply Chain 4.0 represents a technological advancement and a strategic imperative for businesses aiming to succeed in the digital landscape.

By harnessing the potential of Supply Chain 4.0, organizations can unlock new levels of efficiency, responsiveness, and competitiveness.

As this transformative journey unfolds, the businesses that embrace Supply Chain 4.0 will have sustained success in an ever-evolving global marketplace.
Embarking on the Value-Capturing Journey
Companies can start capturing value immediately, with the starting point determined by their current digital supply chain maturity. The McKinsey Digital Walk-Through aids in this assessment:
Assessing Digital Maturity
The diagnostic tool systematically evaluates the supply chain based on six value drivers and five assessment dimensions, including data and analytics.
Three Archetypes of Maturity Levels
Supply Chain 2.0:
Primarily Paper-Based Operations

Manual processes

Limited use of data for decision-making
Supply Chain 3.0:
Basic Digital Components in Place

Implemented IT systems

Basic algorithms for planning/forecasting
Supply Chain 4.0
: Highest Maturity Level
Leveraging all available data for enhanced decision support

Advanced algorithms in play

A formidable team of data scientists driving continuous digital advancement.
Enablers for Digital Supply Chain Transformation
Building Capabilities for a Digital Supply Chain
Embarking on the journey toward a digital supply chain requires developing the necessary skills and expertise, which involves internal training, upskilling, and targeted recruitment of specialized talent.
Creating an Innovation Ecosystem
Implementing a two-speed architecture and organizational structure is crucial to achieving these aims, as is establishing an innovative environment, like a start-up culture, alongside the existing framework. This incubator should offer high organizational flexibility and innovative IT systems independent of legacy systems.
The Role of the Incubator
At the heart of Supply Chain 4.0 in an organization lies the incubator. It operates with speed and efficiency, allowing for quick development and testing of solutions. This "incubator" serves as the driving force behind the digital transformation.
Importance of Rapidly Executed Pilot Projects
Rapidly executing pilot projects is essential. It provides immediate business feedback on the viability and impact of solutions, generating enthusiasm and confidence in innovations like new planning algorithms. This iterative process guides subsequent development cycles effectively.
Bottom Line
Transitioning to Supply Chain 4.0 is crucial for any organization to be competitive. Mckinsley has created a structured approach to navigate a journey toward digital transformation. However, this journey does not end there. It involves constantly growing and evolving, much like successfully riding the continuously moving waves of a sea.
Talk to Us. We can help you digitize your data and move to Supply Chain 4.0.