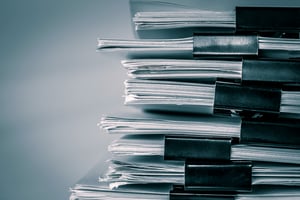 If your company is growing in paper forms and paper documents, you're wasting thousands of dollars a year. Costs for rekeying, filing, storage, real estate, and related costs — not to mention the many more thousands per employee thanks to lost productivity. And you're also missing out on the competitive advantage you might uncover thanks to the power of real-time digital documents and data. Data shows that when companies go paperless, they also save money.
So concludes a wide variety of studies and experts. Moving to a paperless office is easier than you might think. You can quickly and affordably build mobile forms that do data collection. You can reap the benefits of going paperless even if you don't have a high-powered development team or a sophisticated document management system.
Let's explore how you can eliminate paper forms and create digital forms for your field workers.
Benefits of Going Paperless
1)
Reduction in the Amount of Paper and Printers
Costs around printing, shipping and filing paper is costly. Buying, suporting and maintaining printers is also expensive. Printer paper and toner cartridges, filing cabinets and office space, admins to rekey, file forms and search for paperwork all cost businesses thousands of dollars each year. A study by Xerox found that for every dollar spent on printers, $9.40 is spent on IT support, administrative management and service. If you purchase a printer for $250 for printing forms, you'll spend an additional $2,350 on additional printer costs.
When you add in the average time burned by field workers and administrative workers pushing paper forms, you can save a lot of money by going digital.
2) Savings on Office Space and Storage
Cost Analysis of Paper and Digital Forms by Repsly explains that one surprisingly high cost of paper forms and paper files is office space.. It estimates that storage space and filing cabinets required for the forms of field reps comes to $2,165. That's relatively small compared to the loss of productivity and wasted time caused by paper.
3) Improved Data Accuracy and Speed of Data Collection
The SBE Council reports that 11 hours of field rep time and 6 hours of business owner time is spent filling out and managing paper forms each week. This time is spent on things such as recording mileage logs, organizing paper forms, and filling out timesheets. That's $4,147 per year that each field rep spends on administrative work.
Not only does this waste employees' time, but pushing paper often leads companies to use old, inaccurate or incomplete data to run the business. Automatic data collection (pre-populating customer data, GPS mapping, time/date stamping, digital signatures) will make the info more accurate and timely. Simultaneously, mobile features like photos, audio recording, and digital ink can make data collection even more comprehensive and informative.
When you use a paperless system, your data accuracy will improve, and your data analysis will be more timely and accurate, as well.
4)

Faster Time to Insight
According to a recent workplace study by Glean, on average, employees spend a minimum of two hours a day looking for documents, information or people they need to do their jobs. Imagine the productivity increase you'll realize when you can provide employees with instant digital access to documents and data they need,
You'd be surprised at how much time, money and frustration you can save when you create a paperless office. Employees will spend their time on high-value activities instead of searching for information or assessing the quality of corporate data.
Example: Cost Savings with a Paperless Office Solution
Record Nations, a document management software solution, researched paper office costs. The company offers an excellent example of the type of money that can be saved when you move to a paperless office.
Estimate based on 24 filing cabinets and 100 employees each making $15 per hour:
| | |
| --- | --- |
| Cost Factor | Annual Cost |
| Paper Costs | $8,000 |
| Filing Cabinet Costs | $8,433.73 |
| Space (7 sq. ft. per cabinet @ $7.50 per sq. ft) | $1,265.04 |
| Labor costs w/ single file manager | $30,240 |
| Labor costs without file manager | $604,800 |
| Total annual cost w/ file manager | $47,938.77 |
| Total annual cost without file manager | $622,498.77 |
(Source: Record Nations. "The Paperless Office: How Much Can You Save")
Paperless Processes Increase Efficiency
Ron Cogburn, CEO of Exela Technologies sums up the costs of paper forms and the benefits of digital forms this way in a Forbes blog post: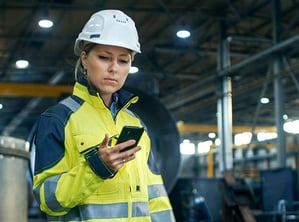 "Paper-based forms, records, and other workflows move slowly, take up a lot of space and require a lot of labor to manage. On the other hand, these same documents can be scanned, and the data within them can be extracted, indexed, organized and securely stored with minimal human intervention.
"Digitizing paper-based workflows saves time and money and reduces costs, and extracting data from physical records enables you to build valuable databases that are available for advanced analytics. Improved data management can make it possible to evaluate internal processes, better understand your customer base, generate key market research and begin new initiatives."
It's clear that moving your business processes to a digital filing system can give you new advantages while providing a more thorough audit trail.
Go Paper Free and Become Environmentally Friendly
Mobile and digital forms can save companies a tremendous amount of money and can also help them operate more efficiently and find new revenue streams. You'll need the right mobile forms software builder to build forms for any mobile device and finally go paperless.
Alpha TransForm is ideal for the task because it offers the development speed of mobile forms products with the power of low-code development platforms. Users can be confident they're building enterprise apps that will never run out of power. And the solution is cloud-based.
Alpha TransForm helps business users or developers craft online or offline mobile apps in minutes that utilize the latest mobile features (camera, GPS, electronic signature, etc.) for fast, accurate data capture (think inspection forms, patient intake forms, etc.). Alpha TransForm apps can be modified and updated in minutes, to quickly respond to business or field needs.
Learn more about Alpha TransForm and try it free with sample apps for 30 days.