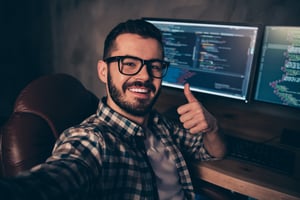 Alpha Anywhere Certification helps you gain a better understanding of deeper Alpha Anywhere capabilities, while mastering the development of modern business applications.
Certification is accomplished through (4) 2-hour courses. Each course – targeted to enterprise developers or independent consultants – culminates in an online exam to test your proficiency at the new concepts you've learned. Successful completion of all (4) courses and (4) exams results in official "Alpha Anywhere Certification" from Alpha Software. You'll be able to display the "Alpha Anywhere Certified" badge on your LinkedIn profile, resume or website.
4-Part Alpha Anywhere Certification includes:
Course 1: Web Services
Course 2: Microsoft IIS
Course 3: Deploying on the Cloud
Course 4: Alpha Launch
Course #2 in this 4-course certification training will be held tomorrow, August 23 at 1PM (Eastern Standard Time). In this course, you will be take through the process of installing and configuring the Alpha Anywhere Application Server for IIS, empowering you with the skills to deploy the Application Server for IIS yourself on hardware either on premises or off.
Register today to make sure you don't miss this opportunity to set yourself apart in the industry!