The short answer: Alpha Anywhere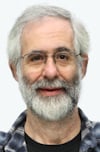 DAN BRICKLIN

Chief Technology Officer "To me, what has always set Alpha's products apart from most of the other development environments and made it so appropriate for a very wide range of users has been the combination of power along with speed and ease of use. Mobile is making the developer's job much harder as end users expect a myriad of task-specific applications on short notice while still requiring full-powered applications on the desktop. Alpha is addressing this problem in a unique and valuable way. I am excited to be joining the team as we continue to innovate in the use of computing in business.
JOSEPH ALSOP

Adviser, Investor and Board Member "The key issues for a prospective customer are assessing a potential partner's people and products. At Progress Software, the company I co-founded, great people produced great products and had a positive impact on the way business applications are developed and deployed. I have experienced the same at Alpha Software, where the focus is delivering a complete environment for building and deploying business applications - for mobile and more. That's why I joined the team.
JOHN CULLINANE

Adviser and Investor "Cullinane Corporation was the first successful software products company in the world. The secret to our great success was that we really cared about our customers and produced great technology. Alpha Software really cares about its customers and produces great technology like we did. That's why I got involved.