With Alpha Anywhere's mobile web reporting tools, you can easily develop full-featured reports that can include grouping, calculations, summaries, images and much more—all optimized for any device or platform. Display your reports as HTML, PDF or both and your data can be exported directly to Excel, Word, and ASCII with the full structure of a report definition.
New to Alpha's Web Reporting Tools: Suppressing "Blank" Lines in Layout Table Reports
Now, the Layout Table report editor exposes a property that you can set for each row in the Layout Table to suppress the row if it is blank. In this video we show how blank lines in a Layout Table Report are suppressed. We also discuss how the report writer determines that a row is 'blank'. Watch Video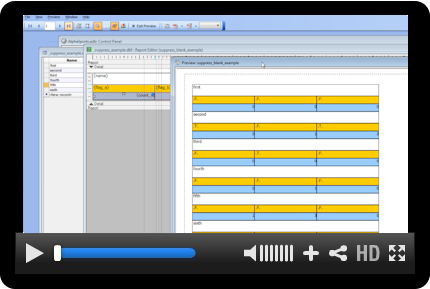 Learn more about the powerful reporting capabilities in Alpha Anywhere.