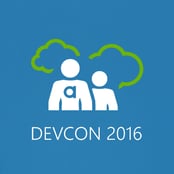 We're pleased to unveil the full agenda of technical sessions for this year's Alpha DevCon 2016. Technical deep dives presented by Alpha Anywhere engineering team members will cover such topics as:


Testing Your Apps on the Amazon Cloud Device Farm
Stylizing Alpha Apps with Bootstrap Themes
Mobilizing Microsoft Access
Debugging PhoneGap Applications
Troubleshooting and Bug Reports
Zero to Cloud – Publishing Your First Application to Alpha Cloud
The Alpha Anywhere Product Roadmap



This year's conference, September 21 — 23, 2016 in Danvers, MA, focuses on the challenges, solutions and hard ROI benefits of mobilizing business processes. Speakers include executives and developers driving and executing some of the most innovative B2B and B2E mobile and web app projects in business today. To offer registrants a wide range of content, we're offering dual tracks of content this year. Attendees can customize their visit to DevCon by selecting from a roster of case study presentations on building web and mobile apps, and from the newly announced technical presentations, along with new networking events, customer awards and a hackathon.

If you haven't registered for the DevCon or booked your flight, now is the time! (According to CheapAir.com, the optimal time to book a flight to get the best rate is 54 days prior to departure.)

As a special incentive, we're offering two specials through July 30th:


Register for Alpha DevCon and get $550 off the price.
Buy one Alpha DevCon ticket and get a second ticket half-price.


For the full DevCon agenda and descriptions of all the technical sessions, click here.

We hope you'll join us this September in Massachusetts!