Hybrid low-code apps combine the strengths of low-code and traditional development to increase app speed, performance, user experience, and more.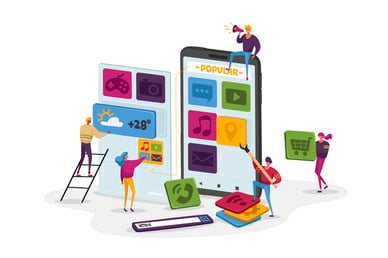 While low-code and no-code platforms speed up app development with their drag-and-drop components and graphical user interfaces, they still have limitations. Many developers prefer the ability to write code within a low-code solution. However, many low-code platforms require programmers to write code outside the IDE (Integrated Development Environment).
In the hybrid low-code approach, the low-code tool is integrated into an IDE. This enables developers to use traditional hand-coding alongside low-code.
Hybrid low-code combines low-code development's speed and efficiency with traditional development's advanced capabilities and freedom of expression. Businesses of any size can use this approach to take on more complex application projects.
#5 best benefits of hybrid low-code apps are:

Hybrid low-code apps enable the possibility of using low-code tools within IDEs. This means low code to be used alongside traditional development. As a result, the potential to build a more complex application is increased.

Hybrid low-code allows developers to use the capabilities of mobile devices such as cameras, calendars, and pinch & spread providing greater scope for creativity.

Increases app performance and speed.

Has fewer issues with bugs and maintaining applications.

Provides enhanced user experience & offline functionality.

One example of software that produces hybrid low-code apps is Alpha Anywhere. You can build apps for free with Alpha Anywhere Community Edition.
Get a Deeper Understanding of Hybrid and Low-code
What are Hybrid Applications?
Hybrid applications are similar to web applications, but there are also important differences such as these apps have a built-in native app container. In contrast to web applications, developers use hardware characteristics and native app functions including the device's camera, pinch & spread, 'push' notifications, and calendar features.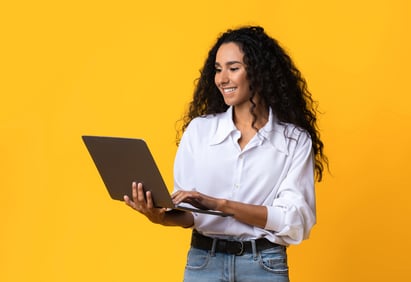 Similar to web applications, hybrid apps often use CSS, HTML5, JavaScript, and other front-end development tools to give them cross-platform functionality. They can access hardware on a smartphone similar to native mobile apps, and are downloadable from app stores.
What are the Advantages and Disadvantages of Hybrid Mobile Apps?
Hybrid apps save companies time and money. They are also compatible with IoS and Android, so you save time avoiding building different versions of the same app. Selecting a mobile app development platform is a critical choice that can impact costs, install rates, and monetization approaches. Here are some advantages and disadvantages of hybrid mobile apps.
Advantages of Hybrid Apps
Target a Wider Audience:

Hybrid apps can be used by Android and iOS users which expands your user base and results with a potentially greater profit margin. You can also select the most appropriate monetization approach which is better suited to your app.
Shorter Development Time:

Developers can create a hybrid app quicker than a native app. Why build two apps when you can build one that works on most iOS and Android devices? Due to the necessity to customize the interface for each device while simultaneously developing two apps, parallel development takes twice as much time.
Less Costly to Build and Maintain:

Because hybrid apps use less complex mobile development frameworks and relatively simple programming languages like JavaScript, HTML, or CSS, they are less expensive to develop and maintain.
Cloud-Based Integration:

Developers can easily integrate hybrid development frameworks like Ionic, PhoneGap, or Titanium onto the cloud due to Exchange Integration Code. These frameworks have more user-friendly plugins that allow development teams to improve functionality, aesthetics, and validity. The result is that hybrid apps integrate easier with cloud services like Salesforce and AWS.
Disadvantages of Hybrid Apps
Limited Functionality

: Hybrid app development is less effective if you want to produce an application with complex features and functionalities. Few hybrid frameworks support every native feature. These limitations are likely to affect your mobile app's stability and make it less effective.

Longer Waiting Time for New Features:

There is often a delay in adding support for new features for hybrid apps, Whenever Google or Apple releases new features for Android or iOS devices customers may face long waiting times before they become available. New SDKs are frequently made available to native apps more quickly than cross-platform frameworks.
Are Hybrid Apps Good?

As we outlined, there are significant benefits of hybrid apps. When you practice hybrid app development you can enjoy:
Hybrid apps combine a native UX (user experience) with a simple-back-end framework taking user experience up a few notches. Complete development frameworks enable developers to create a hybrid app UI/UX that integrates easily with device-specific functionalities.
Greater Creativity:

Hybrid apps seamlessly integrate the operating system of a device with its built-in capabilities. This allows developers more creative freedom to come up with novel concepts and capture the interest of a target audience.
Faster Apps:

Hybrid apps are much faster than mobile web apps or responsive websites. A hybrid app often runs smoothly on a device screen even with many users because there is less reliance on network communication.
Fewer performance issues

: Hybrid mobile apps tend to offer users an optimal UI experience and often outperform native apps. Users are not likely to experience decreased performance when using it on several operating systems. They also tend to have fewer loading issues.
Offline Capabilities:

Similar to native mobile apps, hybrid apps use the device's API and store data offline to reduce data usage. Hybrid apps' offline capabilities will undoubtedly be useful for mobile users who have connectivity issues.
What is Low-Code Development?

Low-code development includes process development solutions, low-code application development, and software development tools. Low-code development platforms allow professional programmers and citizen developers (users who lack a professional developer's coding expertise) to use pre-built blocks of code to create applications and workflows quicker without hand-coding.
Why is Low-Code Important?
While IT talent is in demand, some companies find it hard to find skilled employees. Low-code enables technical employees who have minimal coding experience to build solutions.
Businesses of any size can use low-code platforms to make software development quicker and easier. Low-code enables IT and development teams' to keep with demands and build solutions rapidly that are fast to deploy.
What is the Future of Low-Code?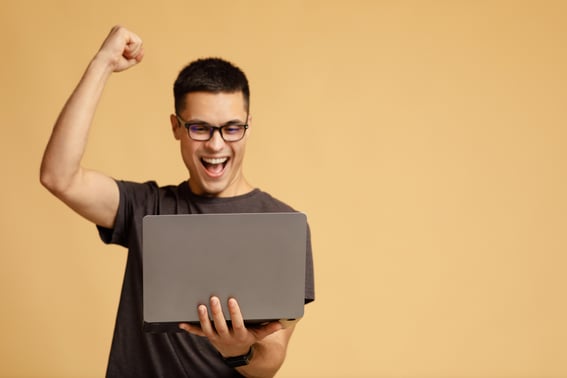 Employees with fundamental computing abilities can now build solutions thanks to low-code. Low-code is becoming more prevalent, as suggested by Gartner and others.
According to Gartner, up to 75% of software solutions will be created with low-code technologies by the year 2024. If projections come to fruition, there will be more need for specialized training programs that concentrate on IT governance and improve the coding abilities of non-technical staff.
Insidebigdata.com predicts that more employees across industries with a range of technical skill levels will use low-code to create straightforward to complex automation without IT oversight. As a result, developers will be able to focus on more strategic tasks, while businesses will pursue ambitious opportunities, address more issues, and boost competitiveness.
Increased Mobile Application Development Democracy
While employees outside of IT and engineering roles may lack coding knowledge, they understand business processes well. More businesses will recognize that these workers can apply their intuitive understanding of business processes to build efficient solutions.
AI Integrations with Low-Code
For better decision-making, AI can effectively identify patterns in detailed data. Automation can gather sales, inventory, and pricing information.
For instance, when used in a retail setting, AI has the ability to predict the price of every item in a store using market trends, product seasonality, and social sentiment. Then, low-code apps can be developed to visually display this data and provide suggestions for prices and quantities. This will optimize inventory space and increase the profitability potential.
How much Faster is Low-Code?

The development of apps is 10 times faster using low-code platforms. As a result, developers can brainstorm, build, test, and deploy solutions in days or weeks instead of months. The time it takes to create custom apps can be cut in half to ninety percent with low-code and no-code solutions.
Faster Development Process: Low-code platforms enable employees to build solutions by providing a visual design format. Employees can make changes to created apps quickly and efficiently. Low-codes intuitive user interface saves businesses time and money.
Quicker Deployment Speeds: Following Hurricane Irma, The University of South Florida created a communication platform using a low-code platform for faculty, staff, and students to interact. The USF team used existing applications and data points as building blocks to deploy the solution as fast as possible.