This week, Clutch, a B2B ratings and reviews firm located in Washington, DC, ranked the top mobile app development platforms in a new Leaders Matrix. Alpha Software is pleased to announce that Clutch named Alpha Anywhere as a top vendor in the Leaders Matrix: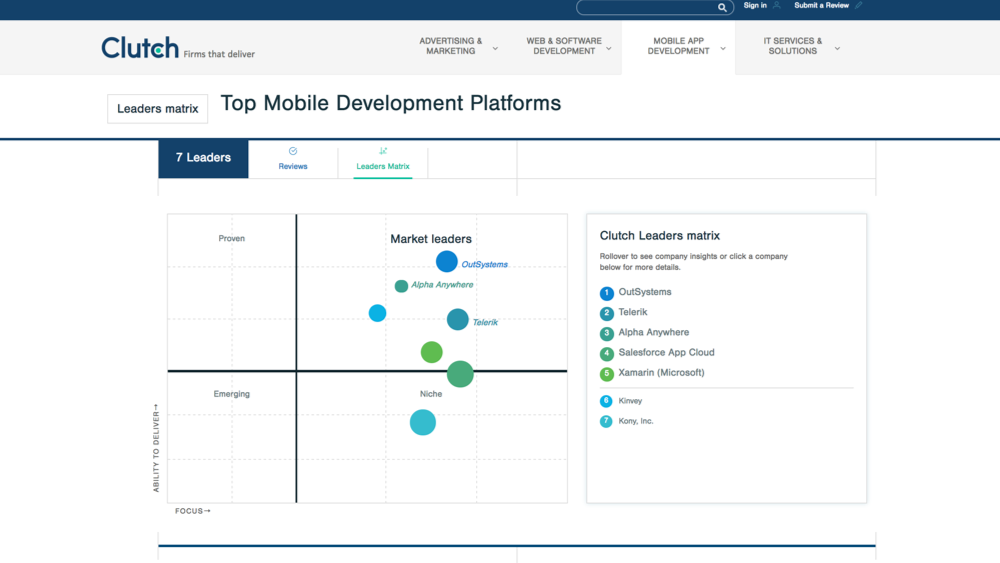 Alpha Anywhere named a top vendor in the 2017 Clutch Leaders Matrix for Mobile App Development Platforms.


Alpha Anywhere outperformed vendors such as Appcelerator, Red Hat, Pega 7, Kinvey and Kony. Clutch Analysts gave Alpha Anywhere high marks for Ability to Deliver (judged as Customer Reviews, Support and Market Presence) and Features (judged as App Development and Management).

Most impressive, Alpha Anywhere received perfect scores in customer reviews -- the highest score of any vendor (a 9.2) and placing Alpha Anywhere at the top of the chart for customer satisfaction.

Customer review comments included:

"Alpha's mobile ability to build either offline mobile apps or standard Web-based mobile apps is what stands out. It's easy to build a decent-looking mobile app now with a lot of power. The other thing is Alpha Software has given you hooks into the code if you want to dive into it." — Owner, PetSitClick.com (Pet Care Company)

"Alpha Software's database calculations are blazingly fast. What they've created as a shell to work in is fantastic. We really like that they built in Adobe Connect. There's a lot of great stuff built into Alpha." — President, Patient Innovations (Health Care Company)

"Alpha Software has a lot that's very impressive. I'm a big fan. They do have a lot of built-in scripting tools for JavaScript that you don't need to know to build an effective app or to build our level of an app. I think Alpha is easier to learn than most software." — Co-founder, Parent-Teacher Association SaaS Company
Read additional coverage of Alpha Anywhere from the analyst team at Clutch.
Read why customers consistently give Alpha Anywhere software perfect scores in industry reviews.
Contact us to see if Alpha Anywhere is a fit for your organization.