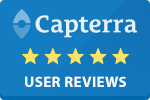 Alpha Software Corporation has been named a 2017 Top 20 Most Popular Database Management Software product by Capterra, a free online service that helps organizations find the right software. The 20 Most Popular Database Management Software is an independent assessment that evaluates customer base, number of active users and social presence to generate a list of market leaders in the database management software space that offer the most widely adopted solutions. The Top 20 Most Popular Database Management Software report is available at https://www.capterra.com/database-management-software/#infographic
The Alpha Anywhere platform is a complete business application development and deployment environment that enables users to quickly become proficient in creating mobile business forms and applications that run across all devices. Earlier this week, Alpha Software announced new TransForm technology in its Alpha Anywhere platform that enables developers to build enterprise-grade apps in minutes (see press release: "Alpha Software Delivers 'Enterprise Apps in Minutes' To Gartner Application Strategies and Solutions Summit 2017 Attendees"). The Alpha Anywhere platform remains the most favorably reviewed rapid mobile app development platform by developers on third party review sites, including Gartner Peer Insights, and is also winner of the InfoWorld Technology of the Year award.
Capterra is the world's leading free software discovery and reviews platform, where organizations of all types and sizes start their search. Founded in 1999, Capterra was acquired in 2015 by Gartner, Inc. Capterra.com features the largest online collection of software user reviews and research across hundreds of categories. Every year, Capterra helps millions of buyers find the right software solutions for their business.
Read why Alpha Anywhere continues to dominate third party product review lists.