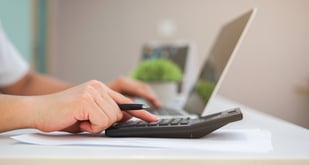 Demand for mobile enterprise apps continues to rise. Odds are high your business needs several mobile apps developed. In addition to finding app developers and the tools for the job, however, you also need to estimate how much it will cost to meet your custom mobile app needs. Do you have any idea what developing a single mobile app costs? Ten thousand dollars? Thirty thousand? Fifty thousand? More?

The answer no longer needs to be a guessing game. Several surveys and companies have done the work to figure it out. The results will surprise you, but not necessarily in a good way because costs are so high. But it need not cost so much, as long as you use the right tools. You can build the custom apps your enterprise needs for far less than others with the right approach.

A Look at Average Costs for Building Mobile Apps
The Formotus blog has an excellent rundown on what various experts have said it costs to build a mobile app. The blog points toa survey I've written about in the past, by Kinvey, which found that on average, it takes an astonishing $270,000 to develop a single mobile app. And 18% of CIOs surveyed by Kinvey said it takes between $500,000 and $1,000,000 to build a single app.In 2013, the AnyPresence backend-as-a-service company surveyed IT professionals and found that more than half said it costs more than $50,000 to develop an app, with almost a quarter saying the costs exceed $100,000.

And Formotus points to other similar surveys. Propelics, which specializes in iPad apps, broke out the costs of developing an iPad app this way:


Simple enterprise iPad app: $50,000
Medium enterprise iPad app: $100,000
Complex enterprise iPad app: $150,000 and up
Not all apps are created equal, of course. So how can you know how much your app might cost to develop? Kinvey has an excellent app cost estimator that asks questions such as what platforms the app will run on, the size of the app, the kind of data you'll store, whether you need to integrate existing data stores, and so on. It's a great first step towards getting a basic cost estimate.

But you need more than a cost estimate. You need a way to cut costs. And Alpha Anywhere can do that.

Reducing Average Mobile App Development Costs with Alpha Anywhere
It takes a low-code approach to app building so that developers can easily write mobile business apps even without starting off with a great deal of mobile expertise. And it also does double-duty as a Web development platform, so that developers can create a Web app or site and then easily turn it into a mobile app.

Alpha Anywhere's secret for dramatically slashing the time and cost to build mobile apps is its "complete" set of both front end and back end tools and its open approach.

In addition, classic time sinks like building offline support with flexible conflict resolution (which takes a huge amount of code and time with other platforms,) are built right into Alpha Anywhere. In addition, Alpha Anywhere is built to connect seamlessly to multiple SQL back ends and to REST services endpoint very easily, which in turn results in very significant development cost savings. Other time and cost savings capabilities that are built right into Alpha are a rich security model, extensive tools for charting, mapping, media handling and reporting and a robust model for responsive application design

A good summary of why a rapidly growing number of developers and companies are selecting Alpha Anywhere can be found here.

Alpha Anywhere's offline capabilities will provide many benefits across our business...


As a world leading provider of testing, inspection and certification services we have a large global workforce in excess of over 60,600 employees. Many of our auditors require constant access to critical business data while in the field - even when an internet connection is not available. We are excited to implement Alpha Anywhere's offline capabilities, which will provide many benefits across our business. For example, our team of elevator inspectors in the Netherlands are required to capture on-site asset information, often when no signal is available. Our pilot mobile app built using Alpha Anywhere and PhoneGap will enable inspectors to record data in real-time for later synchronisation with our primary systems, allowing us to improve efficiency and provide the best possible service to our customers."

- Rohan Shenoy, ISM North West Europe, IS Lead Developer





Alpha Software is constantly innovating and is focused on saving us time and money


We reviewed several other application development solutions, but found that they were far too expensive, even without built in offline capabilities. We have been impressed with Alpha Software, which is constantly innovating and is focused on saving us time and money. We are particularly pleased with the offline capabilities and data integration seamlessly built into Alpha Anywhere."

- Karen Snyder, CIO, American Pool