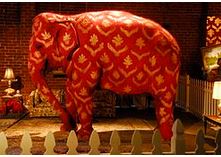 I just came back from the Enterprise Mobility Conference held in Las Vegas last week. The conference is aimed at bringing vendors together with C level executives in corporations and enterprises. A key theme emerged from the conference that can be summed up in the following quote from one of the speakers:
"Don't ask a company what your mobile strategy is - rather ask them what their strategy is?"
The point behind all of this is that companies that embrace mobile computing and deliver information and applications securely in an anytime/anywhere world, will end up with a material competitive advantage. I was encouraged by what I heard and it echoes what we are hearing from the Alpha community.
However, there is the proverbial elephant in the room
(for those of you who are not familiar with this popular expression - check out the Wikipedia definition ) Building modern applications today requires an understanding of so many technologies for mobile apps and cloud deployment that it has become a daunting task. Think about it - you need people who are experienced with technologies like: HTLM5, JavaScript, CSS3, Objective C, Java, SQL, Cloud architectures, Puppet, Web Services etc. It is a big ASK to say the least, especially in an environment when there is serious developer talent shortage. What is needed are wizard driven responsive application design environments (that also allow coding) that are much easier to learn, produce results quickly and allow for the use of one code base without giving up power and programability.
That is why we built Alpha Anywhere - It's time for the elephant to leave the room!