With our major Alpha Anywhere product update on November 1st — already the second significant update to the product since its launch in June — we released the groundbreaking Responsive Layout Genie and responsive design framework. This coding-optional wizard makes it incredibly easy to build responsive HTML5 apps that utilize a single code base, automatically adjusting to any mobile device, laptop or desktop. Today, App Developer Magazine—a publication "dedicated to the app developer and entrepreneur"—ran a featured article on Alpha's exciting new Responsive Web App Design capabilities titled, "Rapidly Build Responsive Mobile Apps."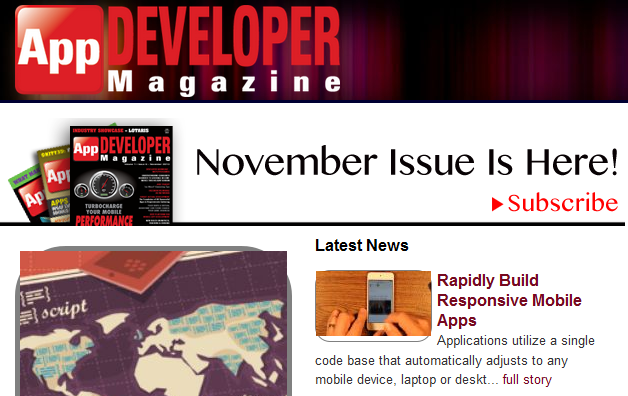 Alpha's new responsive design framework brings an enormous advantage to developers who need to rapidly create or extend existing applications for a variety of different devices. As Alpha CTO Dan Bricklin is quoted in the article saying, "Responsive App Design allows HTML5 to deliver on one of its major promises—the ability to easily build an application once and then deploy it on multiple devices, with native-like appearance and performance, ensuring that the application takes full advantage of a device's display real estate." For more background on the issues being addressed with Alpha Anywhere's Responsive Web App Design capabilities, check out ResponsiveAppDesign.org.
CMSWire and SD Times also run stories on Alpha's Responsive App Design Capabilities
In addition to the article in App Developer Magazine, CMSWire also ran a fantastic, in depth story on Responsive App Design in Alpha Anywhere today under the headline "For Multiple Devices, Alpha Anywhere Adds Responsive App Design." The article clearly lays out the issues at play in building Responsive Apps. And, SD times ran the story with the headline "Alpha Software takes mobile development to the next level with new Alpha Anywhere capabilities that let businesses rapidly build responsive mobile apps."