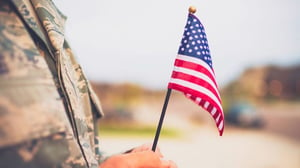 I've frequently written how companies use Alpha Anywhere to increase productivity and revenue and digitally transform their businesses. But people all over the world use our software for more personal reasons as well. In honor of November Veterans and Military Families Month, I'll explain how Jim Laird, who lives in the town of Waupun, Wisconsin, uses Alpha Anywhere for a particularly moving project — keeping track of the men and women from Waupun who have served their country in the armed forces, going all back to the War of 1812.
Jim was born in 1937, and his interest in the men and women who serve in the military dates to World War II. He recalls, "As a child I knew little of World War II, just that my toys were made of wood instead of metal, because metal was needed for the war effort. I became aware that many men of the community were no longer there. My uncles and many older men were gone."
When he finished high school in 1955, he recalls, "The Korean War had wound down. During my freshman year at college the classes were filled with returning veterans. As I listened in the student lounge to the conversation of the returning men, the word 'veteran' took on real meaning for me."
After graduating from college, he moved to Waupun and began teaching math, first in public school and then later for more than 30 years in a state prison in Waupun.
"Through all my years here, I was unable to remove from my mind the wars that happened in my youth as well as the ones that were more current," he recalls. "I have always been interested in history and started looking at what happened to Waupun. Waupun's first Europeans came in 1838/39. I was surprised to find out that we had eight or nine veterans of the war of 1812 buried in our community. I decided to start recording what I could find out about Waupun's veterans."
His research uncovered countless remarkable stories, including that of a 13-year-old boy from Waupun who played drums in the Civil War. He explains, "He was known as the drummer boy of Shiloh. I could not image what it must have been like to be 13 years old and to see the horrors of the Civil War."
That's when he decided to record information about the men and women from Waupun who had fought and died in the country's wars. He began doing it during the early days of personal computers. A friend in a Waupun prison's business office recommend Alpha Anywhere, and Jim used it to create a database to track the veterans. In those days, data was stored on floppy disks.
Over the years, as computers became more powerful, so did Alpha Anywhere and Jim continued to expand his database. In addition to all the vital details and statistics, he was able to use Alpha to store photographs of the men and women as well as other kinds of pictures. And he's working now at adding videos as well.
Jim lauds Alpha's combination of simplicity and power, including tools that simplify auto-select and spell-check when creating records. He constantly adds new fields and new information, he says, and Alpha lets him do everything with ease.
"Alpha has continued to serve me very well through the years," he says. "Thanks to it, I've been able to commemorate the men and women from Waupun who have served our country."
We applaud Jim's work and are pleased to share his story. If you'd like to have your work featured on the Alpha Software blog, please email us.