Guest Post to Alpha Software Blog
The mobile app market has never been healthier. And, even in uncertain times, evidence suggest people still love a good app.
But with over 5 million of them on the market, how can you make sure yours stands out?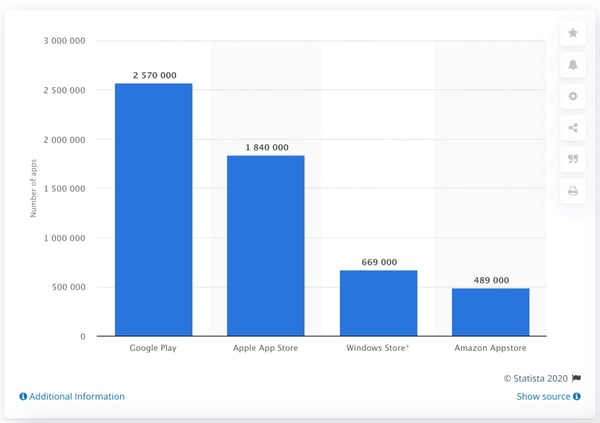 It's all in the marketing! And, while I'm sure you spend hours every week promoting, and advertising your apps online, there's always room for more data to either support or improve your strategy.
So, we've put together the infographic below to illustrate all of the important smartphone statistics of the year. Whether you end up giving yourself a pat on the back for doing all the right things or pick up on potential tweaks to your approach, we hope you'll find them useful.
And, in case you don't have time for the whole thing, we've picked out the 5 smartphone statistics that matter most to mobile app developers this year:
Almost 75% of web traffic in India and 60% in Africa is from mobile phones. Which means app developers with global products should adjust their marketing to suit these audiences in 2020.
39 per cent of the most used apps are social media apps. So, even if you're not busy cooking up the next Facebook or TikTok, you should take this as a sign that an app will usually be more successful if it includes social elements.
Almost half of consumers will only engage with businesses with at least a four-star rating. And it's likely this also holds true for using and purchasing apps. So, you need to encourage your app's users to leave a product review.
66 per cent of smartphone users say they're addicted and people now spend an average of almost three hours a day on their phones. Which means we're spending more time in apps and there's more chance of it being yours.
Globally, more people own a smartphone than a toothbrush. Ok… so this one is either great news for app developers or just plain gross. You decide!
Want to know more? Check out the full infographic.
Author bio: "Jodie is a Conversion Copywriter, Content Strategist and Optimisation Specialist working with bold B2B SaaS and tech brands. Before founding This Copy Sticks, she spent a decade selling the toughest value proposition around and raised £2 million for charities before her 25th birthday. After 10 years in fundraising, Jodie decided to put her words to work helping tech-mad trailblazers grow their businesses."