More than anything, the rapid rise of the Internet of Things will drive mobile app development.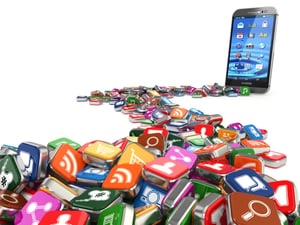 What's driving the future of mobile app development? More than anything, the rapid rise of the Internet of Things will drive mobile app development. So says an article in NetworkWorld written by Gary Eastwood, How IoT is impacting mobile app development. Agree with the article or not, it present lots of convincing arguments — and below I'll give you a high-level view of it.
The article argues that the sheer volume and ubiquity of Internet of Things (IoT) devices will lead to an explosion of mobile app development. There's no doubt that IoT devices will soon be everywhere. A Gartner report says that by the end of this year, some 8.4 billion IoT devices will be in use, up 31% over 2016. Consumers will use most of them, according to the firm. The consumer segment, Gartner says, will account for 63% of all devices. But businesses will spend more money on them, $964 billion in 2017, versus $725 billion by consumers. As for the future: hardware spending by consumers and businesses on IoT devices in 2020 will total nearly $3 trillion. All of this investment in IoT will drive mobile app development.
Eastwood says all these new devices are spurring new apps and businesses. He writes: "Innovators of all stripes have tapped into the Internet of Things (IoT) as they develop the best products and services of the 21st century, but few have made as much use of the IoT as today's mobile app developers have. By exploiting the ubiquity of today's IoT, mobile app developers are finding hordes of new customers by the day, and show little signs of slowing down their industry's growth."
He points out that among the most popular of IoT devices are smartphones. Smartphones don't just allow people to access the internet and apps, but also provide a vast amount of data that can be tapped into and used by businesses. And the premier company at tapping into that data, he notes, is Uber. He explains, "By exploiting the fact that virtually every one of its customers has a smartphone in their pocket, Uber is capable of tracking potential customers and its vast fleet simultaneously…As a company, Uber couldn't succeed without the myriad of data streams constantly pouring information into it from the IoT." In fact, without that IoT data, he notes, Uber "could never have gotten off the ground."
Eastwood expects that many other businesses will spring up to exploit IoT devices. We agree. IoT combined with artificial intelligence can revolutionize construction, as I've written about in my blog, "Artificial Intelligence, IoT and Mobile Apps for Construction." Sensors will capture every aspect of the construction process, from design to delivery, and mobile apps will be written to take advantage of all that data to cut costs, design better buildings and improve the way buildings are constructed.
You don't need to wait for IoT and AI to hit the construction industry to get big benefits out of mobile, though. You can use Alpha Anywhere to build offline field service apps, inspection apps, and much more. Find out more about how Alpha Anywhere can help with construction projects.
Special IoT and Mobile App Development Event:
Join us at Alpha DevCon 2017 to continue the conversation. This year's keynote focuses on the topic of how IoT will drive mobile app development:
The Future of Business App Dev: Robotics, Sensors and AI
In this presentation, Tom Ryden of MassRobotics will reveal some of the biggest innovations coming in the area of IoT and autonomous machines in the 10 years. He'll explain how many robotics companies and manufacturers will utilize mobile apps to power these smart machines, and how mobile apps will be expected to use the data coming form sensors in these machines. The presentation will also cover how artificial intelligence (AI) advancements will fundamentally reshape the way we interact with robots and IoT devices, and the demands these trends will place on mobile apps.