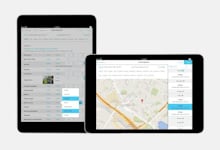 In an earlier blog post, we talked about the 2.5 billion workers world wide who are STILL waiting for computers to make their jobs more productive. More specifically, we were talking about workers who spend most their time on their feet and who tend to use notepads or paper clipboards to record information or work with information that was previously captured and stored. It is worth noting, that in the mobile era, this information can and in many cases, should not only be alphanumeric in form but also should include, photos, video, sound, location/date/time and annotation information. Logging this data through mobile forms customized for the people who use them could greatly improve performance. Forms could be built to utilize features in tablets to record information businesses currently rely on employees to enter themselves, such as time and location. Additionally, custom mobile forms could allow works to record information that paper forms are completely incapable of capturing - audio and video. (Note Scroll down if you want to see the videos) So where do you find these 2.5 billion workers? Pretty much everywhere!
Construction
Maintenance
Inspection
Field Sales
Mining
Oil and Gas
Hospitality
Warehouse
Delivery and Logistics
Health Care (in medical facilities and in the home)
Transportation
Coaching
Field workers in financial services
We believed it was time that electronic forms were re-thought and re-imagined for the modern enterprise computer for the worker who works standing - namely the tablet (and mobile devices more broadly speaking.) When we started working on this challenge about a year ago we felt it was important to focus on key criteria which were based on real world customer requirements. The criteria are:
 ----The ability of the mobile or tablet form to be able to work offline and handle data synchronization challenges flexibly and easily. It was also recognized that these "stand up" workers were often going to need to work with large amounts of data, video, images and sound while disconnected.
 ----The ability to offer data input into the device through a new class of editors that had to be designed to dramatically increase the speed and accuracy of data entry.
 ----The ability to take full advantage of what the camera makes possible in terms of capturing media and acting as an enabler of bar coding.
 ----The ability to take advantage of the potential of electronic ink for drawing, notetaking and annotation.
 ----The ability to incorporate any arbitrary designs from professional graphic artists without them having to learn Alpha Anywhere.
We are very excited with how this initiative is panning out and we have now announced the beta of "tablet optimized forms" in Alpha Anywhere . We invite you to look at this new (short) "explainer" video shown below:
The following video is a short demo from Dan Bricklin, Alpha's CTO. More videos will be coming on this topic.
To apply to join the beta program, you need to be a current subscriber to Alpha Anywhere and all you need to do is go to http://alphasoftware.com/tablet