This is the fourth in a 4-part article series discussing some critical features for enterprise low-code development. Full-stack development capabilities are a key feature of Alpha Software products that makes them ideal for enterprise web and mobile app development.
When building enterprise apps with advanced security, data integration, and robust offline support, developers recognize that full-stack capabilities are a necessity. Alpha Software offers true full-stack support, including front end, backend, cloud capabilities, and more.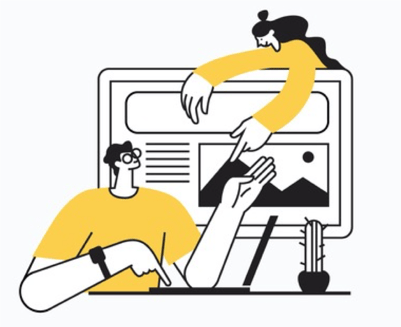 As I've written in a previous blog post, one of the most important features in a low-code/no-code platform is the full-stack support for the entire solution you want to build. So it can't just build mobile apps or web apps, can't just connect to a back end or build a front end. It needs to do all of the above and more. In this blog post, I'll delve into what that means and show how Alpha offers the most comprehensive full-stack support of any low-code/no-code platform.
First an explanation of what we mean by full-stack support. It means that the low-code/no-code platform you choose can't do just one thing, and can't be only a single part of a solution. It must offer the full technology stack, letting you develop, deploy, maintain and update your entire solution, from start to finish, including a front end, backend, cloud capabilities, and more.
We've found this to be perhaps the most serious shortcoming of most low-code/no-code platforms. Apart from Alpha Software, few if any offer true full-stack solutions. They typically target only a single specific part of it. Some say they're mobile app builders, for example, and claim they let you quickly build a good-looking modern app. But then what? How do you manage your users? How do you update your tables? How do you build a landing page? How do you administer the whole thing?
So don't just look for a mobile app builder, or one that focuses on a cloud SaaS backend, or focuses on a front end. Find a low-code/no-code solution that manages every aspect of the platform. And that means Alpha Software.
Many low-code/no-code platforms force you to work with other platforms as well. So you'll have to work with the platform itself to build a mobile app, then a different platform for the front end, another for the backend, and something else for server-side. And that means you're limited in what you'll be able to do, because you've spent so much effort customizing each platform to work with one another. Every time you make a change, you'll need to first find out if all platforms can handle it. And then you'll have to build it into all the platforms. More often than not, you'll find out that the feature you want won't be supported by all platforms.
With Alpha you don't face those problems. We've been working for more than ten years to build a complete, full-stack product that handles anything you can throw at it. With Alpha Software, not only do you get the simplicity of low-code/no-code, but you can also do custom coding to make sure it does everything you'll ever need. You have one screen in front of you that handles client-side, server-side, database connection, and more.
---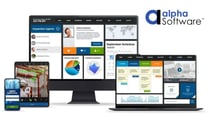 Alpha Software can help your business build critical apps fast and affordably.
Build apps for free with Alpha Software low-code or no-code software. The solutions are rated as top low-code app builders.