At Alpha Software, we understand how important it is for developers seeking high productivity to select the right standards based development platform for their low-code mobile app development and deployment needs.
We're always working to enhance the Alpha Anywhere development experience taking tasks that can be complex to accomplish and making them as quick and easy to achieve in Alpha Anywhere.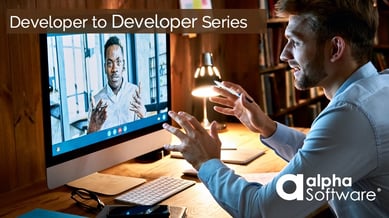 The productivity benefits of Alpha Anywhere apply both to corporations and consulting/professional services organizations.
Typically these organizations select Alpha Anywhere because;
1) they know that they will be able to build robust and scalable web and offline-capable mobile apps as quickly as possible,
2) they are confident that it has the power to ensure that they will never be constrained in accomplishing what they set out to do.
Introducing the "Developer2Developer" Video Series
To assist prospective developers considering Alpha Anywhere who want to get an unvarnished appraisal of the software from developers already using the platform, we are starting a new "Developer2Developer" Interview Series on YouTube.

The series will be hosted by Alpha Software's Vice President of Mobile Bob Moore. is a leading member of the Alpha Anywhere engineering team, directs the company's mobile effort and is responsible for all mobile-related research and development. He has deep experience in all of the major HTML5 mobile frameworks. In addition Dave McCormick, VP of Product Management, will also be conducting these interviews

The first interview in this new Developer-to-Developer Series is with Robin Benett, director and principal consultant at Start Software in the UK. Start Software has about 10 developers building both custom apps for corporations in Alpha Anywhere As well as commercial SaaS apps in a number of verticals.
Robin discusses the types of apps he's building with Alpha Anywhere, how this sophisticated low-code platform allows him to exploit all the power of modern mobile phones and tablets, and how Alpha Cloud allows his team of developers to service Start Software clients with more flexibility, sophistication and speed.
Check it out for yourself and notice the bookmarks below the video for different sections in the interview. (If you are an existing customer and want to be considered for an interview, please contact richard@alphasoftware.com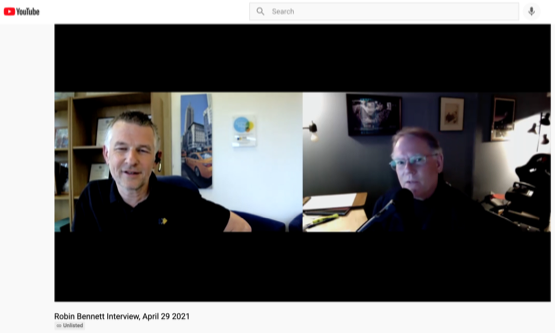 Robin Bennett, Director, Start Software and Bob Moore VP Mobile Development, Alpha Software.
Join Bob and Robin as they discuss web and mobile software development and Robin's experiences developing with Alpha Anywhere.
00:00​ - Intro
00:34​ - Start Software, Company Overview
01:56​ - Committing to Alpha Anywhere, Making The Decision
02:18​ - Low Code Development, Really?
04:32​ - Experience with Alpha Developer Support
07:06​ - Database Discussion, SQL Server
08:23​ - Version Control and Onboarding New Developers To The Team
10:37​ - Any Roadblocks with Alpha Anywhere?
14:56​ - Mobile Development
17:43​ - Developing For Web And Mobile Devices
19:10​ - Deployment, Alpha Cloud