This week, SoftwareSuggest awarded Alpha Software and its Alpha Anywhere software as a "Top Software" in the App Development Category. The award was presented based on the high user ratings given to the Alpha Anywhere low code development platform by customers reviewing the software on the website.
Customers applaud Alpha Software for its flexibility, speed and robust features. Read why many call it the best mobile app development software on the market.
The Alpha Anywhere low-code app development software platform is affordable for SMBs, SaaS entrepreneurs and independent developers.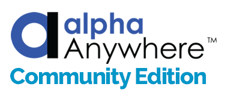 Earlier this year, released Alpha Anywhere Community Edition, which offers all of the features of its full-stack, top-rated Alpha Anywhere web and mobile app development and deployment platform for free. Developers and SaaS entrepreneurs can build custom apps at their own pace without any fees, and only pay when they are ready to deploy them, with Alpha Cloud plans as low as $99/month.
Start building apps with Alpha Anywhere Community Edition low-code software for free.