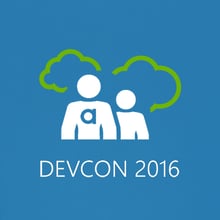 Where can you find the latest technical content on building mobile optimized forms for workers in the field, debugging mobile and web apps, leveraging the latest mobile device features in your apps, and deploying apps to the cloud? Alpha DevCon 2016 will feature 30 sessions and panels focused on the latest innovations in B2B and B2E mobile and web app development. Here's a sampling of what you can expect in the technical track on September 21st-23rd:
FEATURED TECHNICAL SESSIONS
Introduction to Alpha Cloud - An overview of Alpha Cloud, the major features that make it a compelling place to run applications, and how it is integrated into the Alpha Anywhere development environment. We will discuss basic concepts without going into great detail. You should leave with a basic understanding of what Alpha Cloud is and the benefits in offers.
Zero to Cloud - Publishing Your First Application to Alpha Cloud - A demonstration of the publication process. This session will show you how to set up a basic publish profile for Alpha Cloud, publish your application, and deploy it on a web site. We will also look at the Cloud View dialog and discuss how you can check on your running application and view usage and logs. Advanced options for deployment will be touched on, but we won't go into detail. You should leave with a clear sense of what is required for a basic deployment.
Production Deployment in Alpha Cloud - We will discuss additional steps required for running a public facing application in production on Alpha Cloud. This requires a few additional steps. You will want a production application to use your own domain name and SSL certificates. We will touch on web site configuration as it relates to running a production application in a shared environment. You should leave with a general understanding of how to deploy tested applications to a production web site.
Security in Alpha Cloud - Security is always a concern when deploying an application on the Web. We will discuss how Alpha Cloud manages users and groups, the concept of web site tenancy, and options for secure communication with TLS/SSL. We will cover the concepts behind each of these topics and explore the development environment user interfaces that make configuring a deployment easier.
Troubleshooting in Alpha Cloud with the Cloud View Dialog - Deploying to Alpha Cloud means not having to manage a data center. It also means not having direct access to the machine to manage an application. The Cloud View dialog available in the Alpha Anywhere development environment provides a view into your running application so you can verify and debug your application. We will discuss how to view page usage and server load, view and download, logs, and access application dump files. We will also show how you can work with Alpha Software support to make your logs available to our support and development teams to debug potential product issues. You should leave with a basic understanding of the tools available to you.
Troubleshooting and Bug Reports Elsewhere in Alpha - In this troubleshooting section, you'll see how to read and interpret server logs and dump files. We'll also cover general purpose troubleshooting and the right way to submit bug reports.
Debugging PhoneGap Applications - What do you do when your PhoneGap app simply doesn't work as planned? In this session you'll learn how to use the Chrome and Safari debugger to debug your Android or iOS PhoneGap apps. We'll build a native PhoneGap app with known bugs and work through the thought process and techniques required to resolve the issues. Client side and server side debugging will be discussed.
What's New in PhoneGap Development - In this session, we'll take a look at some of the new PhoneGap plugins and component templates for iOS and Android. We'll also discuss SQLite and SQLCipher for securing data at rest on a mobile device.
Register now and save on the list price, click here.