Lets face it, any market that is worth being in is, almost by definition, competitive. And mobile apps can help streamline business processes and give companies the competitive edge they need.As we all know technology and software is driving innovation today and all smart companies "get it". Business mobile apps need to do more than replicate the paper or Web forms they seek to replace.

Smart companies also know that by partnering with Alpha they can get a material jump on the competition. Built in support for must-have mobile features, such as data integration, security, offline application support, and more, are core features in Alpha Anywhere. Alpha's low code model allows anyone to become a mobile application developer easily, allowing your mobile apps to reach market faster than those built with traditional mobile development methodologies.

A good case in point is www.oerca.com which was built in Alpha Anywhere because of its productivity, agility and affordable unlimited users per server based pricing.

OERCA Demonstrates the Power of Offline Mobile Apps
The OERCA electronic animal record keeping application is a full spectrum, portable and fully customizable animal record keeping system that is in use by leading zoos and marine parks in four different countries and has logged over 2 million records.

It is exciting or us at Alpha to see how our continuous improvements are allowing our customers to continuously innovate in their markets. The following is from the OERCA website.

OERCA Untethered
Keep Working Even Without an Internet Connection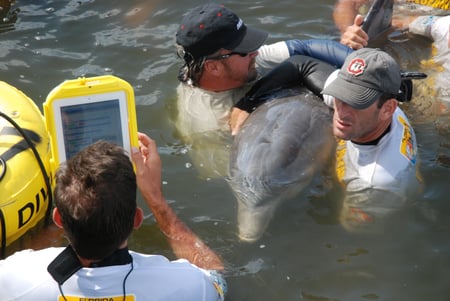 The advantages of web based technology are immense; but one question always comes up...

"What happens if I lose my Internet connection?"

This has been a source of frustration and an insurmountable obstacle for all web based applications. That is until now.

Thanks to OERCA's strategic partnership with Alpha Software, this once aggravating hindrance is now a competitive advantage. With Alpha's new "Alpha Anywhere" technology, OERCA will be able to offer Users the ability to continue using OERCA's powerful record management tools even if you lose Internet connection!

We won't bore you with all the technical jargon...but essentially OERCA will be able to store the required files on your local machine until your connection is re-established. At that point they will then be transferred to our secure servers for safe keeping.

No need to fret anymore if you are hesitant because of a shaky Internet connection. Once again, OERCA has you covered!